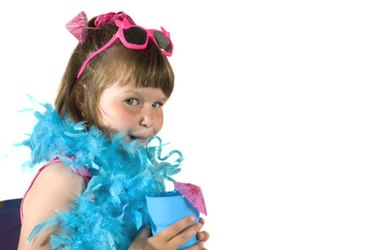 When planning a kid's birthday party at a hotel, make it a fun, exciting, and special experience. Plan a theme party that the birthday boy or girl will like, and utilize hotel facilities as best you can. Make sure to have plenty of activities planned as well as fun decorations. Make this party away from home an occasion the birthday child will be sure to remember.
Camping Party
Decorate the room with fake trees and outdoor scenery. Post cute, wild-animal cut outs on the wall. Set up tents on the floor with sleeping bags and flash lights. For activities, tell ghost stories and play card games like "Go Fish". If the hotel room comes with a burner or stove, pretend to roast marshmallows and hot dogs. If not, you can have room service provide camping-style foods, or you can put together a picnic of cold foods that don't need to be heated. During the day, kids can play at the hotel pool if one is available. You can put fake fish in the pool that the kids can pretend to fish for.
Hawaiian Party
A Hawaiian themed party works best at a hotel with an outdoor pool. In the pool area, set up palm tree and coconut decorations. Grill up some pineapple and burgers or hot dogs for lunch if a barbecue is available. If not, you can order Hawaiian pizzas. For dessert, serve fresh fruits, a strawberry shortcake, or coconut cake. Give the kids some leis to wear around their necks and grass skirts. Have Hawaiian music playing. For entertainment, the kids can learn a fun hula dance and spend the day playing in the pool. You can also buy seashells and hide them around the pool area, or you can pretend to fish in the pool.
Movie Party
Roll out a red carpet in the hotel room for a movie-themed party. Give the kids sunglasses to wear for a fun, movie star look, as well as some over-the-top accessories like jewelry and feather boas. Give the kids a makeover to give them a glamorous look and then put together a mock photo shoot. Have the kids pose like movies stars and take a photos of them walking the red carpet. Each of the kids can decorate their own "Hollywood Star" and then take it home with them. Offer the kids plenty of popcorn, candy, hot dogs, or nachos to snack on during the party. Then have a movie-watching marathon with the birthday child's favorite films.