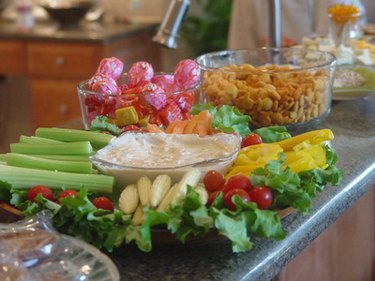 When throwing a birthday party for a teenager, you want the foods to be fun and tasty. Some teens can be picky but for the most part, they'll usually eat anything in the house. Whether you serve warm or cold appetizers, the teens will love them just the same. Of course, if you're throwing a themed birthday party, you'll want the appetizers to match the theme.
Warm appetizers
Everyone loves warm appetizers such as mini-burgers and potato skins; however, they can be difficult to keep warm throughout the party. To ensure that warm appetizers retain their temperature, you have a couple of options. You can keep some appetizers inside a warm oven or buy warming dishes to make sure heat is retained. Teens will love chicken wings, nachos, soft pretzels, sticky buns and mozzarella cheese sticks.
Cold appetizers
Cold appetizers are typically easy to prepare and easy to serve. Of course, you'll want to make sure they remain cold. The easiest way to keep them at the correct temperature is by placing them in the refrigerator. Great examples of cold appetizers that teens are sure to gobble up are finger sandwiches, fruit skewers, a vegetable platter, cheese truffles and no-bake mini-cheesecakes.
Dips
Another easy option is party dips. Most teenagers love a good party dip. You can have the simplest party dips or more traditional dips. Some dips can be served either hot or cold. You can serve regular chips and dip, a guacamole dip, fruit dips and fondue. If you serve fondue, your options are unlimited. You can serve a chocolate or cheese fondue dip. If you're serving a chocolate fondue, you can offer strawberries, bananas or hard pretzels for dipping. For a cheese fondue, choose different breads or chips, as well as different types of cheeses.