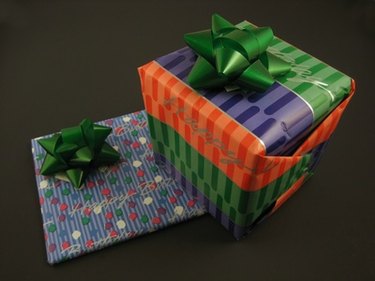 Celebrating an 80th birthday is a milestone that calls for more than just blowing out candles on a cake. Make the day extra special for your octogenarian by gathering family and friends together for a party that truly honors his or her life. Plan for a memorable afternoon or evening of good food, music, humor, reminiscing, and sharing time with the people your loved one cherishes most.
Say It With Music
Hire a local pianist to play and sing the honoree's favorite songs during dinner or throughout the evening for dancing. As an alternative, create an MP3 playlist or record CDs with his or her favorites. Play the tunes during the party and then give the MP3s or CDs to the honoree as a gift.
Tell a Story with Pictures
Create a digital slide show with photos of the honoree from childhood up to the present. Add a soundtrack of favorite songs from each decade. Record a narration, or narrate it live as you show the photos.
Capture Candid Moments
Put a disposable camera on each table and encourage the guests to take candid photos throughout the evening. Collect the cameras at the end of the party. Make prints and create a keepsake photo album for the honoree. Have a CD made with digital files, too, so that the photos can be viewed on a computer.
Pursue Some Trivia
Have a trivia quiz with questions about the honoree's likes, dislikes, and special times throughout his or her life. Make it humorous. Give a small prize to the winner.
Get It on Tape
Videotape the party. Be sure to get each guest on film wishing the honoree a happy birthday. Afterward, transfer the video to a DVD and give it to the honoree as a keepsake.
Make a Scrapbook
Ask long-distance relatives and friends without computers to send written greetings before the party. Assemble the cards and letters in a scrap book and present it to the honoree at the party. Leave some blank pages so you can add cards and notes received at the party, as well as photos.
Invite "Virtual Guests"
Bring your laptop to the party and let far-away friends express birthday wishes live via a Skype video phone call. You would need access to an Internet connection.