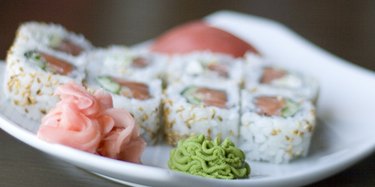 Pickled ginger, or gari, is a sweet and sliced variation of the tuber that has been marinated in vinegar and sugar. Though often found pink, it is actually yellow in coloring, as the pink comes from artificially added ingredients like beet juice or from the pickling process itself. This pale pink ginger, sometimes called sushi ginger, is only one form of the pickled variety and has a great many nutritional values.
Fish
The pink pickled ginger known as gari is most often associated with sushi. Usually eaten after or between bites of sushi, it is thought of as a palate cleanser. But this pickled treat has a life beyond that of gukanmaki and the like. It's an excellent accompaniment to most kinds of fish, whether atop a smoked salmon or tuna fish sandwich. Likewise, tuna or salmon steaks can be grilled and garnished with a bit of pickled ginger, or soy, wasabi and pickled ginger.
Salad
A variety of salads can be enhanced with the addition of pickled ginger. Try one with cucumber, jicama and pickled ginger. Other salad variations include watercress and pickled ginger, roast or grilled chicken and pickled ginger and shrimp, wasabi and pickled ginger. Generally speaking, pickled ginger offers a unique taste that combines with crisp vegetables, seafood and poultry for a distinct flavor. Other ingredients that might lend themselves to a great salad include crab, asparagus, lobster, cauliflower, cucumber, mackerel, scallion and seared beef.
Meat & Poultry
Pickled ginger lends itself greatly to pork, whether it be alongside a sliver of honeyed ham, pan-seared tenderloin or pork chops glazed with apricot, hoisin sauce or teriyaki. It can be shredded or served sliced atop, either method lending itself to an appealing experience. If pork isn't to your liking, try using it to marinate steak, adding it in grated form to soy sauce, mirin and wasabi, or more specifically, a London broil marinated in five spice, red wine, hoisin, garlic and pickled ginger. Afterward, try searing the meat for an explosive flavor. Even lamb lends itself to pickled ginger. Dressed up or down, pickled ginger is equally comfortable as ingredient or garnish, condiment or palate cleanser.