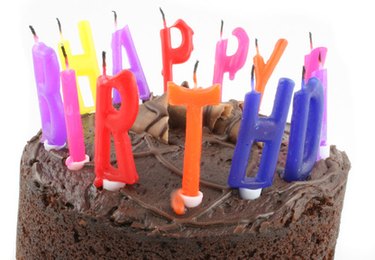 Reaching an 80th birthday is an incredible milestone, one worthy of a celebration. When planning a birthday party for someone turning 80, special consideration should be given to the cake served and how its design fits with the overall theme of the party. Possible themes may be built around the person's photos, favorite activities, special memories, an inspirational quote or the year the person was born.
Special Photos
An 80th birthday cake could be decorated with a childhood photo, a wedding portrait or a family picture. If the cake is a sheet cake, it could be designed like the pages of a photo album, featuring several photographs that depict important occasions in the person's life.
Favorite Activities
If the person being honored loves a sport such as baseball, you could use sports cards or a favorite team's logo as a theme; you could also decorate individual cupcakes with images of baseballs or mitts. If the person enjoys playing cards, the cake could be decorated in red and black, and feature motifs such as hearts, diamonds, spades, clubs and poker chips. An 80-year-old who enjoys quilting would no doubt appreciate a cake with a sewing theme or one designed to look like a patchwork quilt.
Special Memories
If the birthday person has special memories, such as a decorated military career or a once-in-a-lifetime trip, those would also make excellent themes for an 80th birthday cake. Memorabilia could be depicted on the cake and also displayed on the cake table to complete the theme.
An Inspirational Quote
If the person celebrating the birthday has a favorite saying that has been inspirational, or exemplifies his outlook on life, putting that on the top of the birthday cake would be a very special tribute. For example, a quote such as "A person will be just about as happy as he makes up his mind to be" would be a great choice for an eternal optimist.
Year of Birth
A cake decorated to remember the year of the 80-year-old person's birth would also be a fun and original way to honor her. For instance, a person turning 80 in 2010 would have been born in 1930; decorating a cake in an art deco or big band theme would be a unique way to commemorate the year she was born.