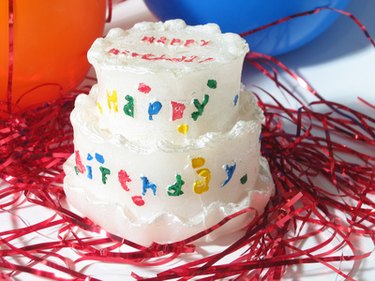 When planning a celebration for a 9-year-old girl, it's important to take into account her developmental stage and her individual personality. According to the National Network for Child Care, 9- through 11-year-olds increasingly seek social acceptance and interaction. However, they may still value time at home with family more than hanging out with friends. There are many ways you can cater to your 9-year-old girl's interests on her special day.
Planning
Before the big day, ask your 9-year-old to help you plan the party. Allow her to choose what you will do, who will be involved, what you will eat and any decorations necessary. Set limits on time, money and scope before you begin planning. Allowing her to take over the planning duties will help foster her growing sense of independence.
Cooking and Cleanup
If you are cooking special food for her birthday, allow your 9-year-old to help. Also, help her take responsibility for any post-party messes. Beginning around age 9, children may develop an interest and ability to help with real-world tasks, such as cooking and cleaning.
Encourage 'Girl Talk'
Consider having a special "girl talk night" in honor of your 9-year-old's birthday. This could involve taking her out for a "girls only" lunch, having a special birthday tea, or even taking an overnight excursion to a hotel. Involve one or more trusted adult female family members or friends, such as a mother or aunt, and discuss topics like puberty, boys and peer pressure. Some girls begin puberty before turning 11, and 9-year-old-girls should have a mother figure with whom they can openly talk about the changes happening to their bodies. You may consider making this a birthday tradition as she progresses into her early teens.
Time for Friends
Encourage your 9-year-old girl to spend time with her friends on her birthday. Consider hosting a theme party based on her interests. If she is athletic, you could have an Olympic-themed party, with competitive field games and other activities. If she enjoys crafts, have a craft party that includes projects like beading or tie-dye.
If she enjoys singing and music, rent a karaoke machine or use a video game system to play American Idol. Or, if your daughter loves primping and makeup, host a spa night with nail painting, facials, foot soaks and maybe an age-appropriate girly movie.
Family Time
You may want to celebrate her birthday as a family at a separate time from your 9-year-old's celebration with her friends. Once again, cater your family celebration to her interests. Encourage discussion about her interests, concerns and goals.