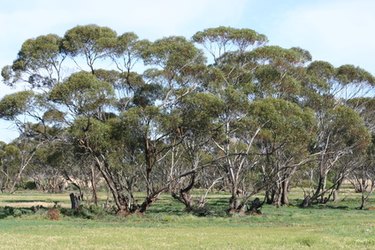 Only five of the more than 900 identified eucalyptus species naturally occur outside Australia. Eucalyptus are prized for their invigorating fragrance, drought tolerance and wide range of forms--from shrub-sized ornamentals to mature trees standing more than 350 feet tall. The use of their branches as foliage for floral designs makes round-leafed varieties of the trees especially appealing.
Broad-Leafed Sally
Broad-leafed Sally (Eucalyptus camphora ssp camphora) eucalyptus has white flowers and reddish leaves especially high in the oils that give eucalyptus trees their unmistakable fragrance. Broad-leafed Sally, a smaller eucalyptus reaching about 30 feet in height, tolerates inferior clay soil and excessively wet periods. This allows it to thrive in the marshes of Australia's southeastern states, New South Wales and Victoria. Broad-leafed Sally also tolerates slightly salty soil.
The leaves' high oil content makes them desirable sources of essential oils for aromatherapy. Their unusual red shade works well in fresh flower arrangements. In the United States, Broad-leafed Sally is suitable for Hardiness Zones 8 and higher, with an average minimal annual temperature of 10 degrees F or above. Broad-leafed Sally does best in full sun and acid soil.
Round-Leafed Mallee
Round-Leafed Malee (Eucalyptus orbifolia), according to AustraliaPlants.com, is a shrub eucalyptus growing up to 15 feet. It has silver-green, slightly thick, rounded leaves and yellow flowers. Round-leafed Mallee likes sunny locations in warm dry climates where annual rainfall averages about 10 inches.
Acidic, sandy soil is best for this eucalyptus, which makes a good ornamental tree in USDA Hardiness Zones 9 and higher (average minimum temperatures of 20 degrees F and above). Its cut flowers and foliage are suitable for flower arrangements. Round-leafed Mallee is a low-maintenance plant, requiring little water and no fertilizer.
Eucalyptus Baby Blue
Of all eucalyptus trees, Baby Blue (Eucalyptus pulverulenta ssp) is the one most valuable to the floral industry. Its faintly fragrant, round, blue-green leaves make long-lasting additions to fresh floral designs, as well as excellent dried floral materials. Baby Blue is hardier than other round-leaved varieties, tolerating growing conditions in USDA Hardiness Zones 7 and higher, with average minimum temperatures of 0 degrees F and above.
Baby Blue does well in a variety of acid soils, including loam, sandy loam, clay loam and gravel. It likes sun but will tolerate light shade and requires low to moderate moisture, and works as a landscape or container plant.
Spinning Gum
Spinning Gum (Eucalyptus perriniana) gets its name from the way its leaves spin around its branches when they drop in dry conditions. Like those of the Baby Blue's, the Spinning Gum's leaves are common as cut and dried foliage.
Frost- and drought-resistant, white-flowering Spinning Gum grows wild in the mountains of New South Wales and Victoria. In the United States, it's appropriate for Hardiness Zones 8 and higher. The tree grows between 15 and 30 feet, making it a good choice for smaller yards and gardens. Spinning Gum likes sunny locations with an average annual rainfall of 25 inches and doesn't require fertilizer.