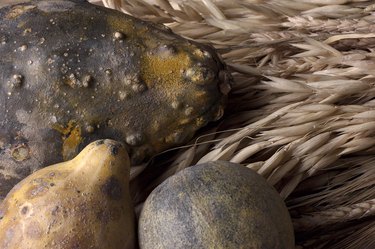 If you are a fan of paint crafts, try a new and unusual canvas: gourds. You can use your own home-grown gourds or purchase ready-to-paint gourds from craft stores. Once dried and hollowed out, gourds make an excellent painting surface, and their unusual, natural shapes can lead to the creation of many unique decorative projects for all seasons.
Birdhouse Gourds
Convert your gourd into a birdhouse by drilling a hole in it for nesting. Paint the gourd to resemble a Victorian dollhouse or country-style cottage with little windows, shutters, window boxes, roof tiles, a door, front porch and a little welcome mat. Look at pictures of houses in a magazine for inspiration.
Stylish Gourd Decor
A simple way to make a beautiful gourd look modern and stylish is to spray paint it a solid color. Use a metallic or high-gloss acrylic paint to make it shine. After they are dry, simply collect them in a basket or line them on a shelf for a country modern room decoration.
Gourd Planters
Paint gourds with the names of the herbs you like to grow to use them as planters or as holders for dried bunches of herbs. Be sure to use bowl-shaped gourds with the top cut off. You can freehand paint or use decorative letter stencils if you prefer.
Animal Gourds
Take a good look at a gourd. Look at it from different angles, such as on it's side or upside down. Squint your eyes and think about what animal you see in it. You may see a bird in it with a long beak, or a funny looking monkey with a wide brow and narrow chin. You can paint animal faces or entire animal bodies onto gourds for whimsical decorations. Try stacking two or more gourds and affixing them to each other with a strong glue or epoxy to create a head and body.
Halloween Gourds
Instead of painting pumpkins this year, paint gourds. Make funny or spooky faces on your gourds and cluster them around a small hay bail on the front porch or in a window display. For fun night-time displays, paint some of your gourds with glow-in-the-dark paint, so once the sun goes down, they will begin to take on a ghostly hue.
Thanksgiving Gourds
Use a gourd as a table centerpiece for your Thanksgiving dinner. Turn a gourd with a long, skinny neck on it's side, so the neck curves upward. Decorate it with paint to look like a turkey and place it on a platter with some raffia or dried moss to hold it in place.
Christmas Gourds
Paint Christmas scenes onto gourds to use as holiday decorations. Turn a gourd into a Santa, elf or reindeer face for a cute mantel or porch decoration. Paint a miniature nativity scene all the way around a small gourd and hang it on your tree. You can also paint your gourd ornaments a solid color and use glitter paints to make swirls, stars or other decorations.
Easter Gourds
Paint gourds like Easter eggs with stripes, zigzags, polka dots, spring flowers, baby chicks and bunnies or crosses. Small, oval gourds have the perfect shape and will be much more durable and last a lot longer than real eggs. After they've dried, glue a ribbon or some silk flowers to the top.