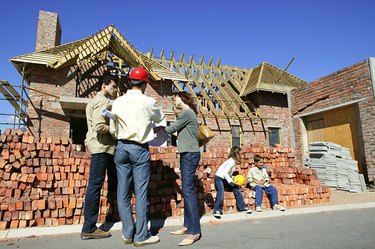 Raised ranch floor plans are a popular choice for sloping building sites. The basement is cut into the ground, partially dug out and the main living area is over the basement, on the second floor. The walkout basement (also known as a daylight basement) of a raised ranch offers additional living space that can be finished to suit a variety of purposes. These basements feature windows on at least one side and usually have a door to the outside, which serves as a second entrance to the house.
Family Room
Finished basements offer an area to spread out in a casual family room. With access to the outside, family rooms can be headquarters for a barbecue or the changing room for a swimming pool. You can furnish with comfortable sofas, an entertainment center and tables for puzzles, games or homework. A computer work station in one corner allows family members to remain close while involved in different activities.
Hobby/Play Room
Unlike traditional dark basements, most raised ranch basements have access to natural light, preventing a closed-off or claustrophobic feeling. Divide your finished basement into areas for games, crafts or hobbies. You can install cabinets for hobby and craft storage, and an easy-to-clean tile or stained concrete floor to make mopping up spilled paint or glue quick and easy.
Apartment
Whether for a relative or as an extra source of income, the separate entrance and relatively large square footage of raised ranch basements make them ideal for a separate living space. You should have space for a small bathroom, efficiency kitchen and separate living room and bedrooms. Check zoning and building codes in your area before taking this design route.
Home Gym
Set up a home gym in your finished basement. Work out on the treadmill while enjoying the view out a window, or set up a big-screen television in the corner for a movie and exercise marathon. Install blinds on windows for added privacy and to block the sun's glare.