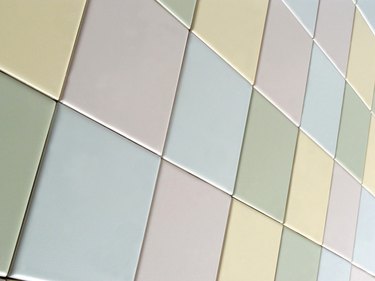 The do-it-yourselfer embarking upon a tile project is bombarded with numerous choices and options, one of them being proper spacing between wall tiles. Oftentimes the tile material choice dictates the proper spacing for wall tiles; in other cases, an experienced tile setter installs wall tiles with the smallest grout joints possible. Wall tile spacing is a balancing act determined by the consistency of tile sizing, overall design and overarching future maintenance issues.
Two- and Four-Inch Tiles
Two-inch tiles are factory spaced and sheet mounted; therefore, the spacing is predetermined and usually averages 3/16 to 1/4 inch. Four-inch tiles -- called "4-and-a-quarter" in the tile trade -- feature built-in, self-fitting nubs that give the tiles spacing between 1/16- and 1/8-inch wide. On one hand, 4-inch tile nubs speed up installation exponentially, but they also can prove to be a DIY headache because they prohibit spacing adjustment. Four-and-a-quarter requires nonsanded grout because of the traditionally thin spacing.
Six- and Eight-Inch Tiles
Six and 8-inch tiles don't feature the self-locking nubs that 4-inch tiles do. Nevertheless, these two sizes feature relatively small grout joint spacing. Spacing for 6- and 8-inch tile averages 1/8 inch and rarely exceeds 1/4 inch.
Twelve-Inch Tile
Twelve-inch tiles are a common wall tile featured in shower and tub surrounds and exterior walls. The uniformity of the material (the amount of variation from piece to piece) and the body of the tile determine the proper spacing for 12-inch tile. For example, 12-inch tiles varying 1/8 inch piece to piece need a larger grout joint than perfectly consistent material. Also, some 12-inch tiles have a nub on the backside of the tile, determining the spacing. Twelve-inch tiles typically have at least 3/16- to as much as 5/16-inch spacing between pieces.
Larger Modular Tiles
The consistency of the material determines the spacing between large modular wall tiles (such as 18- and 20-inch tiles). Additionally, the uniformity of the substrate determines spacing. Uneven walls require larger grout joints; flat walls much smaller. Experienced tile setters ideally install larger modular tiles with 1/8- to 1/4-inch grout joints and accommodate for rough substrates or variation in sizing by installing with 3/8-inch grout lines.
Maintenance
An important DIY consideration for tile spacing comes long after the job is done: thinner grout lines require less maintenance. The cementitious properties of tile grout attract mildew, hard water stains and a wide variety of grunge. Eliminating grout surface area disallows these things from taking hold and makes wall tile easier to maintain.