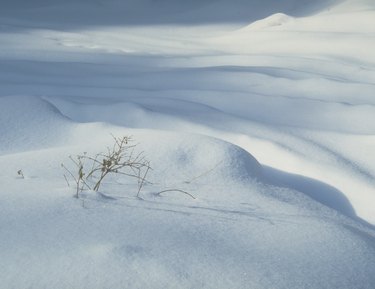 When the snow starts falling, you have two choices: Grab the shovel or pull out the snowblower. Ariens snowblowers can answer that call and get the snow flying out of your way in no time. To keep that snowblower running properly when you need it most, it is vital that you maintain the device properly. This includes using the appropriate lubricating grease.
Grease
Ariens recommends Stens Mix Hi-Temp Grease Part 00036800 or an equivalent for greasing its snowblowers. You will need three 3-oz. cartridges of Stens when you are removing and regreasing the snowblower. You must order Stens from your local Ariens dealer. If you decide to look for another type of grease, you might want to try Lithium Moly grease. You can get this lubricant at your local auto parts store -- perhaps with a lower price tag than the Stens. It has the same basic-high temperature formula for lubricating metal parts.
How to Grease
Place your chosen grease near you. Remove the shear bolt nuts and shear bolts to access the zerk fittings from your auger gearcase. While you are applying the grease to the zerk fittings, turn the shaft auger as you go. This will ensure proper grease distribution. Replace the shear bolt and nuts when you are finished.
When to Grease
Ariens recommends that greasing and lubricating be done at the beginning of every winter season or after every 25 hours that you have used the snowblower. By keeping up with your regular maintenance procedure, you should be able to have your snowblower working efficiently for a long time. Improperly lubricated snowblower parts will wear down faster and may lead to part damage.
Considerations
You must use a clean washcloth to wipe each fitting before and after you apply the grease. You shouldn't mix different kinds of lubricant. If you decide to switch, make sure all lubrication is removed first before applying the new stuff. Never apply any lubrication to friction discs, friction plates or belts.