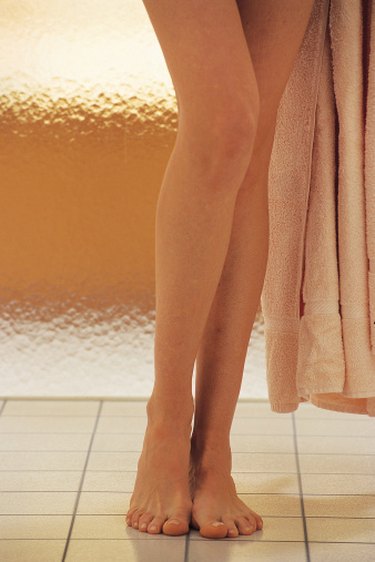 A sparkling new tile job brightens up and modernizes a home, offering more bang for the do-it-yourselfer's buck than many other remodeling options. Floor tile today encompasses myriad material options, including porcelain, ceramic and natural stone. Design, maintenance and the overall size of a space will help determine the type of floor tile you'll use. Standard floor tile sizes range from just two inches wide to a foot and a half.
Smaller Tiles
Standard tile sizes for bathroom floor areas include 8-, 6-, 4- and 2-inch. There are numerous lines of 8 and 6-inch ceramic and porcelain floor tile. Tumbled stone--installed primarily on shower floors--is available in 4-inch tiles. Lastly, 2-inch sheet-mounted floor tile is also a standard for shower and bathroom floors.
Medium-size Tiles
For kitchen floors, general flooring and bathroom floors, 12-inch tile is standard and is available in ceramic, porcelain and natural stone. Twelve-inch floor tiles, however, do have a downside when installed in larger rooms (more than 100 square feet): the smaller tile size creates more grout lines that require maintenance and cleaning.
Larger Tiles
Eighteen-inch tile is a standard tile size that helps build the illusion of a larger space. Using tiles of this size creates far fewer grout lines, projecting a less-busy look. Eighteen-inch tiles have more surface are thus fewer grout joints. Fewer grout lines make 18-inch floors easier to maintain, especially if large grout joints are used, but there is a downside to this size of tile: The larger size and weight of 18-inch tile--especially porcelain and dense natural-stone varieties--make pieces difficult to handle, cut and install for the do-it-yourselfer.
Nonstandard (24-inch and Larger) Tiles
Floors made of two-foot tiles project a massive, monolithic look, but this size of tile flooring isn't traditional. In fact, installing two-foot or larger tile flooring requires special tools, equipment and expertise.