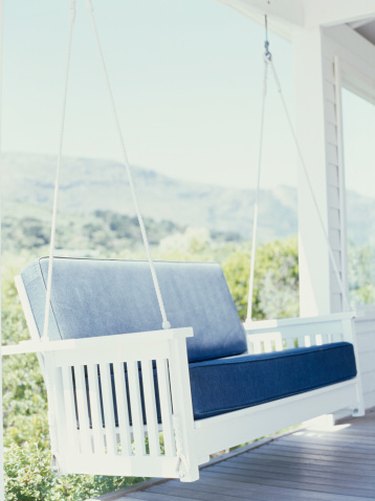 A porch can become additional useful space for a too-small home, or a multi-season indoor-outdoor room when you enclose it. A completely open porch gets screens all the way around for more privacy and fewer insects. A more substantial porch provides an extra bedroom. Use glass, screens or walls to maximize the use of your porch.
Glass in your porch for an all-weather retreat. Turn one end into a wide entrance and exit with sliding glass doors that don't obscure the view of the yard or garden. Use the wall against the house for hanging decorations and running electrical cords or adding wiring for porch lights. Fill the rest of the screen areas with picture windows in cooler climates or sliding windows to take advantage of summer breezes.
Screen your open porch for a bug-free outdoor space that has all the advantages of a terrace or patio – and no mosquitoes. Run screening along open railings on the lower part of the porch, and fit large screens in the top sections. Hang trailing plants from the eaves outside the screens to enjoy closeup visits from birds, butterflies and bees. Putting plants outside the screens means no messy watering on the porch, and the greenery connects the screened space with the garden beyond in an unbroken vista.
Turn a porch into a mudroom with cubbies and a big screen door. Enclose a small porch at the back of the house, and gain a useful entry that protects garden gear and outdoor clothes from the weather. Build a wall of cubbies for rain and snow boots, gardening clogs and tools and sports equipment. Add hooks for parkas, raincoats and umbrellas. Replace open porch railings with a windowed wall, and add a screen door at one end. A tiny porch is purely functional as an entry, and a larger porch can be a place to sit most of the year in mild weather, even if the mudroom is unheated. The bonus is that the dirt stays out of the house, and the gear is ready when you are for yard work or backyard play dates.
Transform a porch into a sunroom or a guest room with proper walls, traditional windows, heat and wiring for lights, fans and air conditioning and a painted floor covered with sisal carpeting. The porch will retain a country look with its planked ceiling and floor, so decorate it in shabby chic, retro summer cottage or beach casual for a bright hangout in any season. If the porch is the front entrance, dedicate a rack, cupboard or corner just inside the door for stashing coats and umbrellas. A side porch can be fully utilized as a breakfast room, family room or guest room to expand the usable space in a small house.