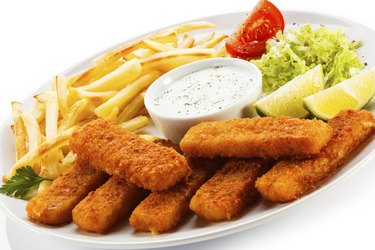 Quick and easy fish sticks are often served with food that is just as accommodating. The meal can be classified under the heading "TV dinner," or "frozen dinner," because the sticks are usually cooked quickly from frozen. Choose classic potato sides or give the dish a fresh twist.
French Fries or Potato Chips
French fries are the traditional complement to fish sticks. Both are easy to prepare and go along well with traditional condiments such as ketchup and tartar sauce. Because both are typically deep-fried, it makes cooking easier, too. For an even simpler side, open a bag of potato chips to serve with the fish sticks.
Roasted Potatoes
Roasted potatoes, tossed with oil, herbs and spices and cooked in the oven, make a hearty side for fish sticks. Roasted potatoes make a lighter side than french fries while still providing the comfort factor. They go well with ketchup and tartar sauce, making the meal more harmonious.
Coleslaw
Coleslaw is a cool complement to fish sticks. Whether you buy a tub of coleslaw from the grocery store or make your own version, it adds a textural contrast to the fish sticks. Serve it alone or with a potato dish and the fish sticks.
Vegetables
Usually a hit with kids, peas and carrots complete a comfort food meal of fish sticks without being overly oily. For a light lunch, consider serving the fish sticks on a bed of lettuce or with a side salad of mixed greens tossed in a light dressing.