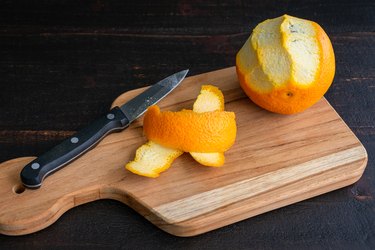 The rich, complex flavors of Grand Marnier make it a luxurious choice to sip from a snifter, mix into a cocktail or add to your favorite recipes. However, if you prefer to avoid alcohol, there are several good choices to use as a Grand Marnier substitute in your beverages and baked goods. Whether you choose orange juice or an orange-flavored alcohol substitute, you can infuse the flavors into your life without adding the liqueur.
Grand Marnier is a cognac-based, orange-flavored liqueur conceived by Louis-Alexandre Marnier in 1880. The distillery in Neauphle-le-Château near Paris, France was founded in 1827 by his wife's grandfather, Jean Baptiste Lapostolle. The addition of a Caribbean bitter orange to a refined French cognac aged in oak casks was a hit. Grand Marnier became an extravagant must-have at parties and fine hotels in the years between 1880 and 1914.
In the 1980s, Grand Marnier began exporting into the United States, where the liqueur was incorporated into the grand margarita and other cocktails. The orange flavor combined with hints of vanilla and oak made the sweet, rich liqueur a popular addition to cocktails or for sipping straight from the snifter. It also adds flavor and depth to a variety of savory main dishes, cakes and other desserts.
Nonalcoholic Grand Marnier Substitute
Fans of mocktails and other alcohol-free beverages can use a few drops of orange extract to flavor their soda water or seltzer mixed with fruit juices to make a satisfactorily flavorful drink. Orange extract is also used in glazes and baking to add that hint of acidity and luscious orange flavor.
Frozen orange juice concentrate thawed and used as a one-to-one substitution for Grand Marnier adds the rich, orange aroma and flavor without the alcohol. For even more flavor, add a little fresh orange zest to the recipe. If orange juice concentrate isn't available, fresh orange juice will suffice.
The scent and delicate flavor of nonalcoholic orange flower water infused from the blossoms of the bitter orange are also a tasty addition to mocktails and other beverages. It is a little too mild to use alone in cooking and baking, but with the addition of orange zest or orange juice concentrate, you can take advantage of the fragrance of the orange flower water and the flavor of oranges to produce your tasty treats.
Other Orange-Flavored Liqueur Substitutes
In addition to orange extract, juice and other flavorings, there are nonalcoholic orange-liqueur substitutes that are specifically designed for use in beverages. For example, Monin Triple Sec Curaçao syrup is a suitable replacement in cocktails for bitter orange liqueurs, like Grand Marnier. Royal Nonalcoholic Triple Sec Syrup is another option for mocktails or to reduce the amount of alcohol in a mixed drink.
If you can't find a nonalcoholic substitute, you can also make your own. It's a simple combination of orange zest from two oranges; 2 ounces of orange juice; or the juice of one orange, 5 ounces of sugar and 5 ounces of water. Heat the water and sugar in a sauce pan until the sugar dissolves and then add the orange juice and bring it all to a boil, stirring constantly. Add the zest, cover the pan and remove it from the heat.
After the syrup cools, strain it through several layers of cheesecloth to remove the zest. Store it in a clean bottle in the refrigerator. This orange syrup should be used within two weeks. You can make similar citrus syrups from lemons and limes.