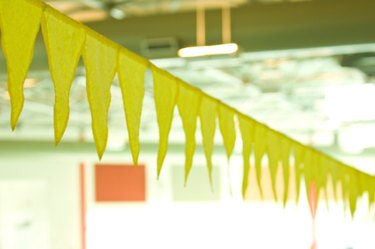 Pennants are flags and banners used to display awards, celebratory messages, team spirit, and serve basic decorative purposes. Generally, pennants come in two shapes, triangular and chevron, and can be found in sporting and party uses. Both styles come in a variety of sizes and can even be made to custom measurements through sign and embroidery shops.
Pennant Style
The two most popular pennant shapes are the triangle and chevron, but some pennants may come in basic rectangular shapes as well. The triangle style features a long point, usually facing sideways or pointing downward. The chevron style features a rectangular top and pointed bottom, also facing downward.
Pennant Banners
The most common use for pennant banners are for the listing of awards and accomplishments. Many times you will see pennant style banners in the halls of schools or gyms, denoting the school's insignia or mascot, team records and history. These banners are made in chevron and regular rectangular styles, and standard sizes range as small as 6 inches to more than 3 feet in length.
Sports Pennants
Sports pennants are popular for fan use, prominently sold at most college and professional level games, as well as sporting good and memorabilia stores. These sports flags are of sideways-triangle shape and sometimes attached to sticks for easy waving ability. While sports pennants come in multiple sizes, standard measurements are in the 12 inch by 30 inch range.
Decorative Pennant Flags
Decorative pennant flags are hanging banners that can be seen as part of room designs or spanning across boats. This flag style is also of the triangular shape, used with the points hanging downward. Multiple flags, usually about 6 inch by 9 inch or 12 inch by 18 inch, are hung from string to create the streamer-type banner effect.