An area that receives the hot afternoon sun is ideal for growing plants that thrive in full sun. Before selecting plants that prefer full sun, find out what the soil in the area is like. Some plants need moist soil and some prefer dry soil. It is a good idea to check the soil pH or have the soil tested. Knowing whether the soil is acidic, neutral or alkaline plays a key role in helping you figure out which plants will thrive in that area.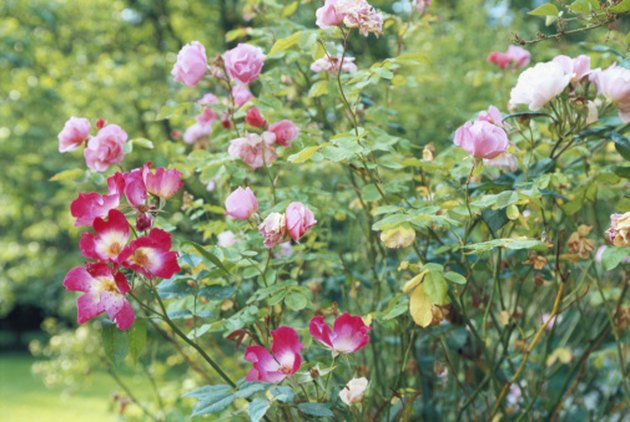 Vegetables
The majority of vegetables prefer full sun, especially warm-weather vegetables such as tomatoes, peppers and eggplants. The leaves may wilt a little in the hot afternoon sun, especially if there is not enough moisture in the soil for the roots to take up. Watering the plants with a soaker hose or automatic watering system early in the morning is the best way to prevent this from occurring, unless they are being grown in an area with consistently moist soil. Another way to help the soil hold moisture is to amend it with compost yearly. Other vegetables that do well in the hot afternoon sun include corn, beans, pumpkin, watermelon, cucumbers and squash.
Flowers
There are both annual and perennial flowers that prefer growing in the hot afternoon sun. An annual is a plant that grows, flowers, sets seed and dies in one growing season. A perennial is a plant that comes back from its own root system year after year. Mulch the flower beds with 3 inches of compost once a year in early spring to help keep the plants' roots cool and provide a source of nutrients. Annual flowers that thrive in full sun include petunia, lantana, verbena, cosmos, cleome and bachelor's buttons. Perennials that prefer growing in the hot afternoon sun include bee balm, coneflower, yarrow, black-eyed Susan, phlox, yucca and sedum.
Herbs
Herbs will thrive under the most adverse conditions and actually prefer growing in the hot afternoon sun. The sun causes their essential oils, which is what gives them their flavor, to evaporate -- making the area around them quite fragrant. The best time to harvest herbs grown in full sun is in the early morning, as soon as the dew has dried. Annual herbs that thrive in full sun include cilantro, basil, dill, nigella and seed poppies. Perennial herbs that thrive in full sun include lemon balm, lime balm, sage, oregano, fennel and parsley.
Ornamental Woody Plants
Ornamental woody plants consist of trees, shrubs or other plants with woody stems. There are a number of these plants that will thrive in full sun. Ensure you dig the hole at least 2 times the size of the plant's rootball, and water it well for at least the first year to establish it properly. Water deeply so the roots will go as far into the soil as possible. Trees that thrive in full sun include most fruit trees, maple, oak, flowering cherry, pines and spruce trees. Shrubs that thrive in the hot afternoon sun include butterfly bush, lilac, viburnum, beautybush, bayberry, privet and boxwood.