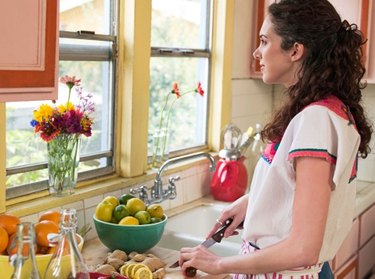 One way for homeowners to get help with financing a hefty mortgage note or maximize the use of an investment property is to rent out rooms to tenants as opposed to renting the entire house. While this can be an income-producing dream, it does not come without drawbacks and considerations specific to tranquil cohabitation.
Rental Agreement
The structure of a room rental agreement is quite different compared to a traditional rental agreement for a home, requiring specific language in the lease. Of course, the lease should include monthly rental amounts, penalties for late payments and terms for eviction, but it also needs to contain language specific to rules for cohabitating space. Since room rentals usually mean sharing living areas, laundry rooms, kitchens and sometimes even include sharing bathrooms, outlining the rules for allocated times in these spaces in the lease is the best way to define cohabitation of these spaces, which keeps residents from infringing on family time with your household or private time for another tenant.
Screening
When renting out rooms in your home while living there, or renting out to tenants' cohabitating space not as roommates, safety precautions are crucial. In these instances, screening a tenant for his credit history alone is not enough; a background check and sex offender's database look-up is often beneficial. As a property owner, you will incur additional fees for these services and might want to consider making these fees nonrefundable to applicants applying for your rental space since you are likely to run several of these checks per year.
Time Commitments
Long-term is not a good descriptor for room rentals. Typically, room rentals last only a few months if not only a duration of a few weeks. Because of this, a property owner should not look at room rentals as a long-term income-producing venture unless she can fill vacancies quickly. The best areas to rent rooms are locations near college campuses and areas where traveling professionals require an extended stay that is close to work, often near downtown areas.
Considerations
Despite the relationship only being a room rental, you are still required as a property owner to comply with all government and state real estate laws regarding landlord/tenant agreements. Consult with a real estate attorney or trusted real estate professional and inquire about the specifics for rental agreements and regulations in your immediate area before putting an ad out for a tenant, which prevents potential legal ramifications down the line and protects your real estate investment from lawsuit by a disgruntled tenant. It also gives you an opportunity to learn more about your rights and financial responsibilities when renting out a single room in your home.