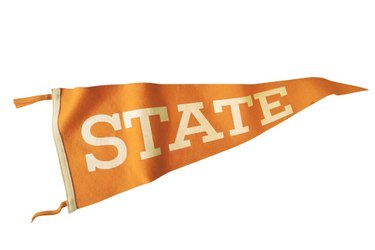 Sports pennants are popular decorations throughout many homes. Pennants from a person's favorite teams make great accents in basements, game rooms and young boys' rooms. You can display pennants in a variety of ways, ranging from basic wall-hangings to more intricate and involved displays.
Wall Hanging
One of the most basic ways to display a pennant is by hanging it on the wall. Do this using nails, tacks or even sticky wall mounts. Hang the pennants vertically, horizontally or on a slant, depending on your preference and the overall design of the room. Consider hanging several pennants in a row next to each other, to complete the look on the wall.
Border
For a room that will be completely sports-themed, consider using mini pennants to make a border along the top of the wall. Use pennants in place of wall paper or stenciling. This look may be ideal in a young boy's room. Consider choosing pennants from all of his favorite sports teams in the area, or pennants from all of the teams in a sports league, like Major League Baseball or the National Basketball Association.
Display Case
Use a display case to show off a special pennant that a man does not want to ruin. These plastic or glass cases are shaped specifically to the pennant, and allow you to mount the pennant on the wall without fear of it gathering dust or losing its color. This is a great way to display a vintage pennant in a basement or in a game room, while still using a touch of decorative style.
Shadow Box
A shadow box is one of the most decorative ways to display a pennant in a room. A shadow box—which is a large frame that holds the pennant, and often has several other pieces of memorabilia, as well—can turn a plain pennant into a piece of art and a conversation piece. Consider using a shadow box for those extra special pennants that she cherishes most. Add related items, such as a signed baseball card for a baseball pennant, or a photo of the pennant's owner playing the sport, to make the shadow box personal.