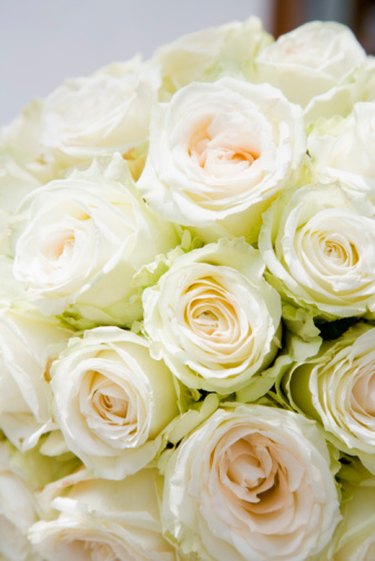 White roses blossoms have long symbolized purity and innocence. White roses in the home garden can brighten a border and tie other colors together. Isolating a pure white color in any flower is difficult. Stamens in single-flowering roses show gold, yellow or orange. Buds carry green, pink or yellow colorations before opening to reveal silvery, creamy or dull white petals, often blushed in pastel colors. Temperature, lighting and humidity affect the colors of all roses, including white varieties.
Phototropic and Thermotropic Characteristics
The tendency of plants to grow toward or away from light or heat sources is called phototropic or thermotropic characteristics. The terms as used among rose breeders refer to variations in rose bloom colors according to light intensity or temperature. It is thought that the effects of light and temperature on the availability of sugars in the flower bud affect their color. Rose breeders and hobbyists alike know that rose colors vary throughout the year on the same plant according to the vagaries of growing conditions.
Double Delight
While most roses fade or brighten somewhat in varying light, extraordinary phototropic and thermotropic qualities are observed in others. Double Delight is an intensely fragrant hybrid tea rose that was introduced in 1977, bred by Herbert C. Swim and Arnold W. Ellis by crossing the hybrid teas Garden Party and Granada. Double Delight was added to the Rose Hall of Fame in 1985 as among the most popular roses in the world. At first, thought to be just another white rose, Double Delight was nearly discarded. Its phototropic qualities were revealed as the blossoms were observed turning red in the sun. Modern breeders John and Robyn Sheldon are working to capture the phototropic qualities of Double Delight and other roses in their breeding program.
Prairie Star
Prairie Star is a shrub rose bred by Dr. Griffith Buck and introduced in 1975. Buck roses were bred especially for enduring very cold temperatures. Prairie Star is marketed variously as white, light yellow or pink. The roses show as pure white, light yellow, apricot blush or pale pink, depending on the temperatures and the time of year. Cooler autumn temperatures bring out the pink blush. The cold-hardy, disease-resistant plant produces flushes of fully double roses throughout the growing season in clusters on long stems with healthy, glossy foliage.
Headliner, Elina and Paradise
Several roses are of interest for their strong color-changing characteristics. Jackson and Perkins introduced Headliner in 1985. A hybrid tea considered a pink blend in color, Headliner variously displays blooms of almost purely white, white edged in bright pink, or almost solid pink. Paradise, introduced by Weeks in 1978, is considered to be a mauve or purple blend in color. Paradise ranges from solid lavender or pink to white or light pink with lavender-pink edging. Elina, bred by Patric Dickson in 1984, is a light yellow rose ranging from deep buttery-gold to almost pure white in color, displaying tremendous variation within the range.