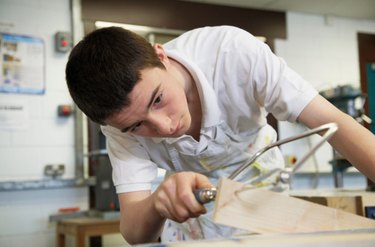 There are large variety of saws available to consumers. Many of those saws are designed for specific uses, while many more are versatile enough to be used for everything from framing a house to installing finish trim. When it comes to small crafts it is important to avoid using more saw than is necessary and employ devices that allow for precise cuts.
Coping Saw
The coping saw is a hand saw consisting of a blade mounted on a C-shaped frame with a round handle. Used primarily for precision cuts, coping saws are known for cutting copes on profiled molding. Copes are made by cutting along the profile of one piece of molding so it can butt and overlap against another piece at a 90-degree angle. Coping saws can be equipped with blades to cut anything from wood to tile. Able to cut curves and circles, coping saw blades are changed by adjusting the tension of the blade by twisting the handle.
Back Saw
Back saw is the general name for a variety of saws featuring a reinforcing steel or brass back on the side of the saw opposite the teeth. The back on the saw helps give the saw extra weight and makes cutting easier. Featuring a D-shaped handle, back saws, like the dovetail saw or tenon saw, cut on the forward stroke and are suitable for both crosscutting and cutting joints. Use the saw by resting your index finger on the top/back of the saw and holding the wood with your opposite hand.
Jigsaw
Jigsaws are electric saws available in either corded or battery-powered versions. They feature a reciprocating blade to provide precision cuts when resting the saw plate on the work surface. Jigsaws are often used for cutting curves or circles and cutting in the middle of a panel. Most jigsaws have easy to change blades so you can easily switch from a blade made for rough cutting to one designed for more precise cuts. Some features you might find on a jigsaw include laser guides, LED lights, blowers, and the option to run at variable speeds.
Rotary Tool
Rotary tools are versatile tools suitable for small woodworking crafts by do-it-yourselfers or larger jobs by professionals. Available in both corded and cordless versions, rotary tools offer hundreds of accessories so they are suitable for a large variety of jobs. Rotary tools can operate from 5,000 to 35,000 revolutions per minute and use different size bits so they can cut and carve through a variety of materials, including wood. They can also act as sanders, routers, grinders and drills.