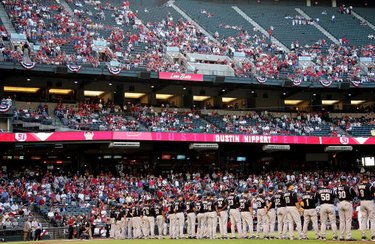 Located in Phoenix, Arizona, Chase Field serves as the home stadium for Major League Baseball's Arizona Diamondbacks along with other sporting events and concerts. Chase Field has a capacity of 49,000. Fans attending games at the stadium are subject to restrictions including what kinds of foods, drinks and containers are allowed inside.
Drink restrictions
Fans who attend games or events at Chase Field face restrictions on the types of drink and the drink containers they can bring into the stadium. According to Chase Field rules, only two types of drink are allowed inside: water and juice. Fans can only bring non-flavored, non-carbonated water inside in sealed bottles, while juice must be inside sealed juice boxes. Only plastic bottles are permitted. No metal drink containers, including Thermoses, are allowed inside.
Food restrictions
Chase Field is more lenient on fans when it comes to the types of food allowed inside the stadium during events. Chase Field does not restrict any specific types of food, only the containers they need to come in. According to the stadium's web site, all food must be brought into the stadium in a clear plastic bag. Baby food and formula are also permitted inside Chase Field.
Container and cooler restrictions
The stadium also has rules on the types of containers and coolers fans can use to bring in their food. Only soft-sided coolers can enter the stadium and they must be no bigger than 11 inches by 11 inches by 15 inches. Large bags like backpacks and purses also have the same size restrictions. All items, including bags, coolers, purses as well as food or drink items are subject to security search.
Food inside the stadium
Chase Field offers plenty of food choices inside the stadium for fans. One item, the Arizona Dog, was chosen by Sports Illustrated in 2010 as one of the best stadium foods in Major League Baseball. The Arizona Dog is a hot dog covered with chorizo sausage, nacho cheese and tortilla strips that weighs in at more than 1,000 calories. The stadium also added food choices in 2010 that included a giant pretzel which can feed four people.