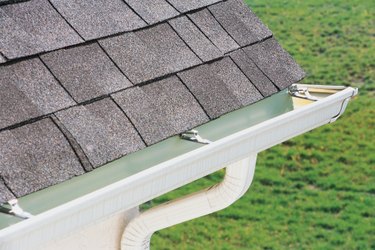 Rain gutters are a common addition to homes , and they come in a variety of materials. Installing rain gutters requires cutting sections of guttering down to size and, depending on the type of material with which you are working, the actual tools you use can vary. Regardless of which type of gutters you choose to install, you can pick up several common tools at your local home improvement store to cut your gutters to fit.
Hacksaw
A hacksaw is a handheld tool with a replaceable blade. Use a hacksaw to cut through gutters quickly if you prefer to use one instead of a miter saw. They are also handy for smaller cuts where a miter saw might be considered overkill. The blade on a hacksaw is interchangeable, which means you can switch it out depending on whether you are cutting through plastic or metal.
Snips
Snips come in a wide array of styles and shapes, depending on if you are looking at commercial settings or residential projects. Smaller, handheld snips are similar to scissors except they are specifically made for cutting through metal. Handheld power snips are also available and are useful for projects where you will be cutting through vast quantities of guttering and handheld snips just aren't enough.
Utility Knife
You can cut vinyl guttering in a variety of ways, but the easiest is with a common utility knife found in most homes. Prefer a large-blade utility knife, given the thickness of the guttering, but there is no need for power tools when working with this type of guttering. A utility knife can make any type of cut you need.
Miter Saw
Miter saws are the most common tool used for cutting gutters, especially metal and plastic gutters. Fit the miter saw with a carbide-tipped finish blade for cutting through metal, but this is the fastest and most efficient tool for cutting through any type of gutter material. Use it to make straight cuts as well as angle cuts, depending on where you are installing the guttering.