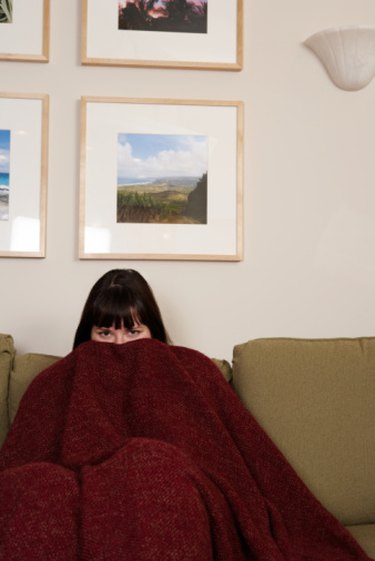 Sofa throws are common household decorations that provide both aesthetic appeal and utilitarian function. If you are interested in purchasing a throw, be sure it suits your style and decor. A multitude of colors, materials and styles are available to choose from. Additionally, sofa throws are versatile pieces that you can use in a variety of ways.
Definition
A sofa throw is a small blanket or coverlet. It is typically placed on a sofa or other piece of furniture, such as a recliner. They vary in size from a small blanket that will only cover a child to a large blanket that will cover multiple people simultaneously.
Color abd Materials
Sofa throws come in many different colors. Commonly, sofa throws are found in neutral colors, such as white, beige, tan or black. Bold colors are also seen in sofa throws, including deep purple, red, blue, green and yellow. Most often sofa throws consist of only one color, but patterned throws are available as well. The most common material for a sofa throw is cotton. However, other materials, such as chenille, satin, cashmere, velvet and microfiber, are available.
Style
Sofa throws can be traditional in style or contemporary. Traditional sofa throws are made with straight lines and look like a small blanket. Some may feature strings or tassels on the bottom of them. Contemporary throws feature bold designs, such as geometric patterns, nature-inspired prints or busy patterns that are bordered with a solid print. Some companies offer services to hand-make a sofa throw according to your specifications or add a family picture to the throw.
Where to Find
Sofa throws are available in most stores that sell home decor items. This includes discount stores, furniture stores, home decor stores, home improvement stores and department stores.
Uses
Sofa throws have several functions. Sofa throws serve a decorative purpose, as it can add a pop of color in an otherwise neutral room. You can also use a sofa throw as a cover to warm you up in a chilly or drafty room. If your sofa is outdated, tuck the sofa throw inside the sofa to make a simple slipcover. Alternatively, place the throw on top of stains or damaged areas on your couch.
Decorating with a Sofa Throw
One common way to decorate with a sofa throw is to simply "throw" it on your couch. This gives the room a casual, lived-in look. For a cleaner decor style, fold the throw carefully and place it on the armrest or center of the couch. Use the throw to blend in with your existing color palette by using a throw in a similar color to the couch, or make it stand out by using a contrasting color. Use the sofa throw on other pieces of furniture as well. A soft throw is ideally placed on a rocking chair in a nursery. It also makes an elegant bed runner on the foot of your bed.