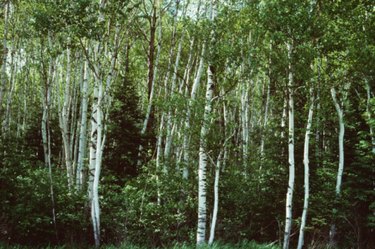 Birches have distinct white- or chestnut-colored bark that makes them desirable landscape trees. They are medium-sized trees that grow to 20 feet or more. Sometimes a large tree is not suitable for a small landscape, but dwarf or miniature species and cultivars mean you don't have to eliminate birch as a choice when landscaping. They thrive in moist, cool northern areas and are hardy to U.S. Department of Agriculture zones 2 to 9.
Betula Nana
Dwarf Arctic birch (Betula nana) is a deciduous shrub native to the tundra and its habitat ranges from the arctic regions to northern North America. It rarely gets above 7 feet tall and only if protected. It has round to oval scalloped leaves and reddish bark with tiny white spots. It likes moist soils and can live in marshes or bogs, making it a good shrub for problem areas. The variety "Glengarry" is particularly small and rarely forms a mound higher than 3 feet tall.
Betula Glandulosa
American dwarf birch (Betuna glandulosa) is similar to the dwarf Arctic birch in appearance and its range is about the same. It grows a little more south than Betula nana, and its oval scalloped leaves are larger than the dwarf Arctic birch. It has a shrublike habit and seldom grows over 6 feet tall. It has nice yellow, red and orange fall color. It tends to grow in thickets in moist soils with low fertility, making it great for overly wet areas of the landscape.
Betula Pumila
Bog birch (Betula pumila) have rounded scalloped leaves very similar to the dwarf Arctic and American dwarf birches. The leaves sometimes have a whitish underside. The habitat and growth habit is similar. It grows near or in swamps and bogs, and it can grow to 7 feet tall if protected. The bark is a pretty reddish brown with tiny white spots. Like the other Betulas, it forms thickets and frequently hybridizes.
Betula "Trost's Dwarf"
Trost's Dwarf is a rare cuteaf variety of the European white birch. It's light green leaves are finely dissected and it has an overall thready or lacy appearance. It resembles a laceleaf maple and often replaces the maple in colder areas where that same delicate look is desired but hardiness is needed. Like the Betula pendula, it will form white bark with age. It has a mounding habit and seldom grows above 5 feet tall. It is much sought after for bonsai purposes.