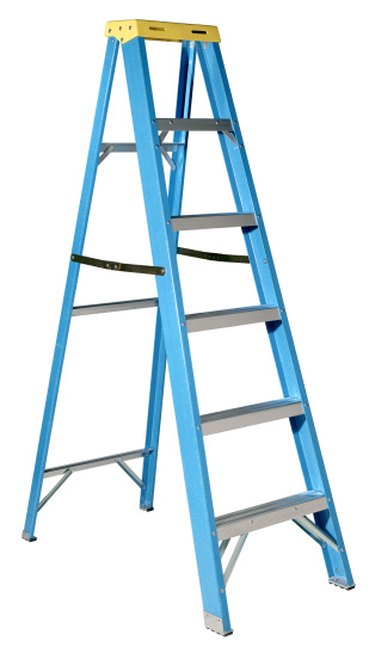 A step ladder is a deceptively simple apparatus. The Occupational Safety and Health Administration (OSHA) established specific ladder classifications to make step ladder selection easier. A report on fatal occupational injuries published in 2009 by the Bureau of Labor Statistics claims that around 120 people die annually as a result of falling from a ladder. Choose the correct ladder for the job, and take a fundamental step toward safe ladder use.
Type I
A Type I ladder is the workhorse in the ladder universe. This classification of ladder is reserved for industrial applications. Contractors, public utility employees and construction workers use Type I step ladders every day. Regardless of material construction, Type I step ladders are built in lengths from three to 20 feet and withstand an occupant load up to 250 lbs. Type IA step ladders are built for occupant loads up to 300 lbs. Type IAA step ladders are extra-heavy-duty rated for up to 350 lbs.
Type II
Type II ladders are three to 12 feet long, have a duty rating of 225 lbs. and are used in commercial applications. Painters, interior decorators, maintenance workers and electricians use Type II step ladders. These ladders are manufactured using wood, metal or fiberglass and are common with contractors for medium-duty use.
Type III
Household ladders fall into the Type III classification. Only rated to handle up to 200 lbs., Type III ladders are for light-duty, quick and simple tasks. Grab a Type III ladder when you need a quick lift to change a light bulb or dust cobwebs. These household ladders are manufactured in lengths from three to 6 feet.
Other Criteria
Rely on other factors besides the OSHA step ladder classifications when selecting the proper ladder for the job. Before selecting a step ladder, decide what you'll be using it for. Step ladders have maximum height limitations and it is dangerous to exceed them. Ladders are constructed with a variety of materials, depending on their intended use. Electricians need non-conductive material construction, such as fiberglass or wood. An aluminum ladder provides the on-the-go contractor, painter and maintenance worker with a lightweight and portable solution.