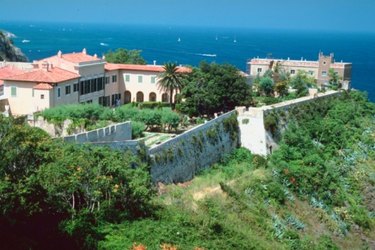 Dating back to the the 15th century, Filippo Brunelleschi is generally considered to be the first Italian Renaissance architect. House plans depicting the Italian Renaissance style found their way into America early in the 20th century. Strong, classical Roman elements incorporate columns, domes, arches, pediments and pilasters in Italian Renaissance architecture. Stucco, stone, marble and terracotta tile typify materials used in Italian Renaissance construction.
Exterior
Stucco and stone are common materials used in the construction of an Italian Renaissance home. A low-pitched, hipped roof (one in which all sides slope downward toward the walls) with terracotta tiles is a typical feature. Decorative brackets supporting moderately-wide, overhanging, boxed roof eaves are prominent in Italian Renaissance homes. Symmetrical design, recessed porches with arched openings, plus classical columns, pilasters and pediments describe the Italian Renaissance architecture.
Interior
Planked or parquet hardwood, marble and terracotta tiles are frequently used in Italian Renaissance floors. Area rugs add cozy comfort to wood, marble or tile floors. Wall-to-wall carpet is seldom seen in this style of home. Marble counter tops, fireplace mantels and columns enhance the Italian Renaissance ambiance. Scagliola is a less expensive substitute for natural marble. Venetian plaster, a decorative stucco, adds texture to walls.
Lighting
Wrought iron, distressed copper, bronze and cast iron are construction materials commonly used in crafting Italian Renaissance lighting. Twisted metal chandeliers, antique wall sconces and hanging lanterns complement this decor. Wrought iron or copper table or floor lamps are functional and blend seamlessly with the Italian Renaissance design.
Vizcaya
Vizcaya is a Floridian estate featuring one of the most well-known, elaborate Italian Renaissance homes in America. Industrialist James Deering launched construction of his dream home in 1914 in Miami, Fla. Modeled after an Italian Renaissance style palace, the entire structure was constructed of concrete to withstand hurricane winds. Steel enforced floors were impervious to decay and termites. Clay tiles from old Cuban homes were shipped to Florida and comprise the roof.