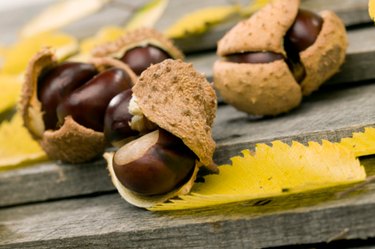 Buckeyes, despite being slightly poisonous and thus inedible, have many claims to fame, especially in the state of Ohio. Known as the Buckeye State, Ohioans have deep pride for Brutus Buckeye, the mascot for the athletics department of Ohio State University. Continue adding to the buckeyes' good name by creating an assortment of resourceful crafts that incorporate the famous nuts.
Jewelry
Whether you plan on demonstrating some school spirit for the next big Ohio State game or just want to create an original, eye-catching design, incorporating buckeyes is an inexpensive and entertaining way to go about making your own jewelry. If you live in an ideal location for collecting your own buckeye nuts, take a nature hike and search for fallen nuts on the ground. Otherwise, purchase the nuts in a specialty craft store or online. As buckeyes are very hard, you'll need to drill holes to string the buckeyes onto chains or elastic for your bracelets, necklaces and other pieces of jewelry you create. For extra OSU school spirit, intersperse gray and red beads with the buckeyes.
Ornaments
Buckeyes are quite versatile in terms of decoration possibilities, so think outside the box when creating your own original ornaments. These can be hung on Christmas trees or around the house year-round depending on your personal preferences. Using acrylic paints and other decorative materials like glitter, create the design for your buckeye ornament. After the buckeye has dried, either drill a hole through the nut to string it on a piece of clear fishing line, or hot glue a piece of elbow macaroni to the top and then add your string.
Garland
You can use a buckeye garland to create a rustic feel or to show OSU school spirit any time of the year. For instance, you could use your garland as a Christmas tree decoration, or you could drape it in a dorm room for some Ohio-themed decor. For a 6-foot garland, you'll need anywhere from 50 to 60 buckeye nuts. You'll also need a drill to make holes in the nuts to be able to string them on a piece of jewelry wire; use wire instead of string because buckeyes are quite heavy and will need extra support. Feel free to add other items like beads to the garland for extra pizazz.
Keychains
You'll always know where your keys are with a buckeye keychain to keep you organized. Depending on how large you want the chain to be, you could use any number of buckeyes, but you really only need one to make a successful keychain. Decide what kind of design you want to make to highlight your buckeye; consider adding colorful beads or feathers for an eye-catching keychain. Drill a hole in your buckeye nut, and then use yarn, string or suede leather to string through it. Add your other embellishments to one side of the buckeye, tying a knot at the end to hold it together, and then attach a 25mm split key ring at the other end.