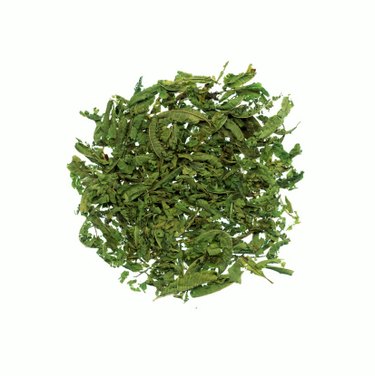 Lemon verbena (Aloysia triphylla) is an herb with long narrow leaves and tiny white flowers. It's a tender deciduous shrub that can't take frost, and in its ideal climate can grow to 25 feet. The fragrant lemon-scented leaves are used in potpourris and in cooking. It also makes a nice lemony tea. In times when lemon verbena can't be located, look to the satisfactory substitutes.
Mint Family
Two plants that have lemon-flavored leaves are in the mint family. Lemon mint (Monarda citriodora) has lemon-scented leaves and purple flowers that attract bees and hummingbirds. The scent changes late in the season, so for the best lemony scent and flavor, it's best to harvest young leaves. Lemon balm (Melissa officinalis) has light green leaves and white flowers and is most often used to make a relaxing tea. It is a prolific re-seeder, though, and can quickly become a nuisance if flowers aren't picked off.
Lemongrass
Lemon grass (Cymbopogon citratus) is a tropical perennial grass, and it's often treated as an annual in Northern gardens. It's used often in Thai and Vietnamese dishes and is a common ingredient in many chicken and fish dishes. It's commonly used as a tea in many African countries. The oils are also used as insecticides and preservatives. Although Cymbopogon citrates is the most commonly available species, many grasses of the genus Cymbopogon also have lemon-scented leaves.
Lemon Basil
In many Arab and Indonesian countries, Lemon basil (Ocimum x citriodorum) is the lemony herb of choice. In Northern gardens, it is a tender annual. It has small white flowers which should be picked off as they appear because the leaves will lose flavor. The leaves can be dried, but often lose some of the essential oils responsible for the citrus scent and flavor.
Other Lemony Herbs
French sorrel (Rumex scutatus) has a more sour taste than a taste that's specifically lemony, although the lemon overtones are still there. It is used as a base for sauces that accompany fish. It's also eaten green as a perky salad ingredient. Lemon thyme (Thymus citriodorus) has tiny green and yellow variegated leaves. Added to marinades, they add a nice citrusy touch to fish and chicken dishes.