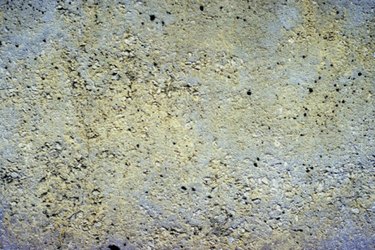 Concrete is a relatively inexpensive, durable surface material, which makes it ideal for outdoor applications such as patios, pool decks, driveways and walkways, as well as indoor surfaces such as floors, walls and countertops. However, while it resists wear and tear fairly well, it can begin to show its age over time with chipping, fading and stains. You can breathe new life into your concrete surface by resurfacing it. Choose from several resurfacing options to find one that best fits your application and tastes.
Stamped Overlay
A stamped overlay allows for the resurfacing of a concrete surface with a thin layer of cement, usually between ¼- and ¾-inch thick. It is easier to install than traditional stamped concrete but has a similar appearance so the surface can be imprinted with a variety of designs that mimic the look of tile, rock, slate, wood, brick and other natural materials. Install a stamped overlay using a gauge rake, and add texture with texturing skins or stamping mats. You can use this on both floors and walls.
Spray-Down Topping
A spray-down topping offers a versatile resurfacing option. Typically, you spray this onto the surface using an air-powered gun, though you can also install it as a splatter coat for added texture and traction. Some spray-down toppings are "knocked down" using a trowel so it is spread out and flattened for a smoother finish. For a more decorative look, you can use stenciled patterns with spray-down toppings. However, because of their textured finish, spray-down overlays are most common in outdoor applications, such as driveways, patios and walkways.
Skim Coat
A skim coat, also known as a microtopping, is an extremely thin resurfacing application you can apply using a squeegee or trowel. The layers used typically range in thinness from 1/16 to 1/8 of an inch. As a result, you can use them on a variety of surfaces because they do not add bulk. They are available pre-tinted, but you can also have them custom colored so you wind up with the exact shade that you want. For an even more decorative look, you color the skim coat with layers of different colors. A skim coat is an ideal option for walls, floors and other surfaces that are not suited for other resurfacing methods.
Self-Leveling Overlay
Made from flowable polymer-modified toppings, self-leveling overlays can level themselves without the use of a trowel. As a result, they work extremely well to resurface uneven or worn concrete surfaces. Self-leveling overlays allow for a perfectly smooth surface, but you can choose to engrave them with various patterns and designs for a more decorative look. You can also stain or dye them. However, in some cases, they are used solely as an underlayment for a new floor.