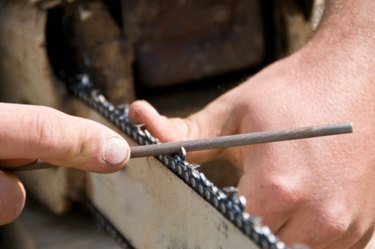 Stihl was established in 1926 by Andreas Stihl and began by manufacturing washing machines and forehearth plants. Since then, Stihl has grown into an international distributor of outdoor machinery such as hedge trimmers, drilling tools, blowers and chainsaws. The Stihl HT 75 is a pole pruner that enables users to trim tall trees, bushes and other types of growth.
Fuel and Ignition System
Stihl HT 75 pole pruners have a fuel system that uses an all-position diaphragm type of carburetor. The carburetor has an integral fuel pump and an air filter made of a metal screen with foam elements. The ignition system is an electronic magneto type of ignition that uses a NGK CMR 7A spark plug. The electrode gap for the spark plug is 0.02 inches and the spark plug thread is 14mm by 1.25mm and 0.37 inches long.
Engine
The engine for a Stihl HT 75 is a two-stroke, single cylinder motor. Displacement for this engine is 1.55 cubic inches. The motor produces 1.3 hp and has an idle speed of 3,000 rpm. The stroke for the cylinder is 1.1 inches in depth and the bore is 1.34 inches in diameter. The fuel tank has a capacity of 0.115 gallons and uses a fuel mix with a 50-to-one ratio of gasoline to oil.
Chain
Stihl HT 75 pruners have a Picco Micro Mini oilomatic chain. The chain pitch is 0.375 inches and the drive link gauge measure 0.04 inches. This chain has six teeth, seven when using special accessories. The chain sprocket uses a spur type of sprocket. A rotary piston oil pump automatically adjusts according to operating speed, providing the chain with lubrication. The lubrication system has a capacity of 0.058 gallons of oil. The chain travels at a maximum speed of 68 mph at full throttle.
Features
The Stihl HT 75 features a rollomatic type of guide bar with a sprocket nose. The length of the bar is 12 inches. The depth gauge ranges from 0.018 to 0.026 inches, adjusting for different types of wood. This pruner has a throttle trigger, trigger interlock and a slide control that operate the engine. The slide control starts, stops and keeps the engine running. A choke lever has a warm and cold setting to match the engine's temperature.