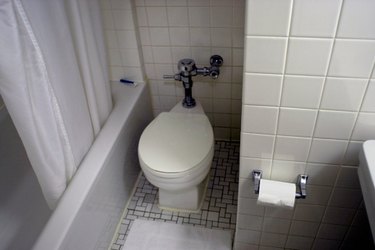 Toilets make up a large part of the bathroom and drastically affect the overall aesthetic of the room. Because of this, many manufacturers produce toilets in several colors. These various colors are designed to complement, if not match, the many shades of tile available for bathroom walls and floors.
White
White is the most common color of toilet, and all major manufacturers have at least one shade of white in their catalog. This stark color reflects the most light making it suitable for both small and large bathrooms. Additionally, white is compatible with several tile and wall colors and both light and dark color schemes. Still, white shows dirt much more easily than other colors and must be frequently maintained. Shades of white include Kohler's White, TOTO's Cotton White and American Standard's Everclean White.
Off-White
Many homeowners choose off-white shades rather than maintaining a strenuous cleaning schedule. Off-white color choices are warm and bright and also hide moderate dust and dirt. Shades of off-white are available from many toilet manufacturers including Linen from American Standard, Bone from TOTO and Natural from Eljer.
Black
Another common bathroom toilet color is black. This color is not as suitable for smaller bathrooms as it is for larger ones since it absorbs more light than any other color and can reduce the perceived size of a room. Black colored toilets are most often installed to match black tile or wall paint but also complement shades of gray and stone colors such as granite or marble. Kohler's black toilet is Black while Eljer prefers Onyx and TOTO carries Ebony toilets.
Yellow
An unconventional choice, select toilet manufacturers produce toilets in shades of yellow. This shade is bright and provides many of the same benefits as off-white, reflecting light with a warm tone and hiding moderate dust. Kohler's version of the yellow shade is called Sunlight.
Gray
Shades of gray are compatible with both light and dark color schemes, hide moderate dust and are neutral enough to neither reflect nor absorb a great deal of light. Gray is available from most major toilet manufacturers in several shades, including the medium-toned Gray from TOTO, the lighter Ice Gray from Kohler, the dark Cashmere also from Kohler and Silver from American Standard.
Tan
Darker than yellow or off-white, tan matches tan color tiles and complements shades of gray, green and off-white tiles. Tan shades include Sedona Beige from TOTO, Almond and Biscuit from Kohler and Silk from Eljer.