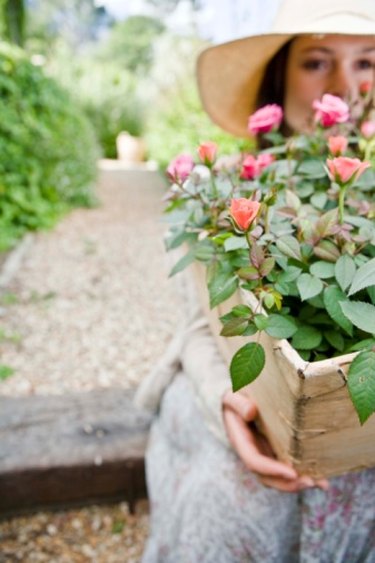 Retreats for women allow a variety of women with different ages and cultures to come together for support, self-discovery and personal growth. Many women's retreats are based on religion or spirituality, but not all. Gifts for a women's retreat may be a gift women receive at the beginning or end of the retreat or a gift for winning a certain game or following a physical challenge. By giving homemade gifts, you are saving money and providing a more meaningful item for the women to treasure and remember this special time.
Gift Baskets
Gift baskets are simple to make and leave room for customization. Choose a theme for the gift basket, or simply fill a basket with a variety of items. For a gift to give the women at the beginning of the retreat, place a hand towel at the bottom of a basket and fill the basket with retreat essentials such as travel-sized soap, shampoo, conditioner, toothpaste and body lotion. Include other items like scented candles, a terry cloth robe or towel and slippers.
Food and Drink
Food gifts provide a feeling of warmth and comfort to women on a retreat. Homemade food gifts include gift packages with a variety of items like muffins, cookies or other baked goods. You might also put together "Food in a Jar" gifts, which include the dry ingredients from a cookie or other baked recipe with written instructions on how to complete the recipe attached to the jar. You might also give each woman a coffee mug filled with packets of hot cocoa, mini marshmallows and a chocolate-dipped spoon.
Flowers and Plants
During a retreat, women are taught to love themselves, appreciate their own self-worth, come together for support and grow as an individual. Giving a flower or plant gift offers a symbolic gift to bring home with them. Give each woman seedling or small pot of flower seeds with fertilizer and directions of how to help it grow and thrive.
Spa and Beauty Products
Make homemade spa and beauty products using simple ingredients that are easy to find at your local grocery store as well as some essential oils for scents. Make lotions, bath scrubs and salts, bubble bath, makeup and face scrubs to put in a small decorative container and give to each woman during the retreat. To make a grapefruit sugar scrub, you will need jojoba oil, white table sugar, liquid castile soap and grapefruit essential oils. Mix the items together, add pink food coloring to make it a grapefruit color and place in clean containers.
Beaded Jewelry
For the more talented craftspeople, make beaded jewelry to have each woman take home after the retreat. Necklaces, bracelets and earrings may be a simple beaded design or a complicated wire-wrapped one. Use beads from a local craft store such as glass, crystal and gemstone beads with a metal clasp and jewelry wire. Place each finished item in an organza bag and put a label on it with a poem or message to the woman to remember the retreat.