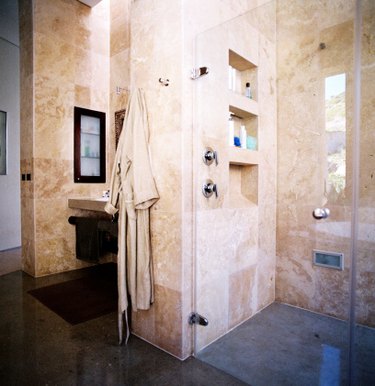 When planning a new bathroom or remodeling an old one, you may be tempted by the idea of using marble for its countertops, floor and walls. Marble has a reputation as one of the most luxurious home design materials and can definitely create an eye-catching look for any room. However, while there are some obvious benefits to using it in your bathroom's design, there are several significant drawbacks as well. Before deciding on marble for your bathroom, consider both the pros and cons so you can determine whether it is a good fit for your home.
Pro: Appearance
When it comes to creating a luxurious, elegant look for your bathroom, marble tile is usually the go-to option. It features attractive veining and swirls that give each piece a unique look so no two tiles are exactly the same. Marble also features a smooth, glossy finish that reflects the light for a brightening effect in your bathroom. The tile is available in a range of colors, including white, black, gray, pink, blue and green, so it provides a great deal of design flexibility.
Pro: Durability
Because of the way that it is made, marble is an extremely hard material. If you drop a glass on a marble tile floor, it will likely break into hundreds of pieces because the surface is so solid. As a result, marble is one of the most durable options for bathroom tile. If properly maintained, you can count on your marble tile to last for years.
Con: Expensive
One of the most significant drawbacks to marble is its hefty price tag. In some instances, marble tile can cost more than five times as much as traditional ceramic bathroom tile, according to Handy American. If you are on a tight budget, it may not be a viable option. In addition, marble tile is generally not recommended for do-it-yourself installation, so you must hire a tile professional to handle the project, which can add to the cost.
Con: Prone to Stains
Because it is made from limestone, marble is a porous material. As a result, it readily absorbs liquids, soap scum and other substances that are spilled on it. As a result, stains can develop easily on a marble surface. To prevent staining, marble tile must receive a protective coating upon installation and be resealed approximately once every 9 to 12 months. In addition, you must wipe up any colored products, such as hair dye, cosmetics and perfume, as soon as they are spilled.
Con: High Maintenance
In addition to annual resealing, marble bathroom tile requires additional maintenance measures to preserve its appearance. It must be washed with a mild cleanser that does not contain chlorine on a regular basis and dried immediately to prevent the tile from absorbing water that may soften it. Once it begins to soften, it is much more likely to crack, chip and stain.