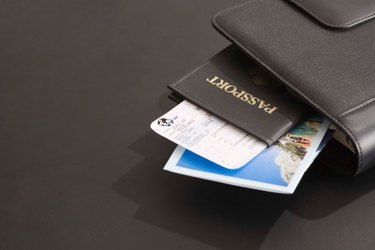 If you are planning on traveling outside of the country in the near future, and you cannot find your passport, it is crucial to replace it as soon as possible. If you cannot present a valid passport at the airport, you will not be permitted to leave the country under any circumstances. Replacing a lost passport is a relatively easy process, however.
Reporting
If you cannot locate your passport, report the loss to the Bureau of Consular Affairs. Call the toll-free number during business hours on weekdays (1-877-487-2778) or by filling out and sending form DS-64 (see Resources). Make sure to sign the form if that is the reporting option that you select.
Replacement
After reporting your lost passport, it is necessary to replace it and get a new one. Do this by filling out form DS-11 and visiting an acceptance facility or passport agency in your area. Fill out form DS-11 in legible handwriting, using black ink. Also bring proof of identification and United States citizenship such as a driver's license or birth certificate. For your passport, two head-on photos (2-by-2-inch) also are necessary. Before visiting the agency, call ahead about current passport application fees. For expedited passport processing, the fee is higher.
Recovery
In some situations, you might actually find your old passport after submitting the report and applying for a replacement. In these instances, it is necessary for you to send the original back to Passport Services at the United States Department of State. You can request to have it sent back; without a request, however, Passport Services will destroy your old passport.
Urgent Situations
If you are planning on leaving the country in two weeks or less, it is necessary to seek an appointment with a regional passport agency. If you are presently outside of the United States and need to replace your passport in order to leave the nation you are presently visiting, it is crucial for you to visit the nearest United States consulate or embassy. When traveling, always keep a backup photocopy of your passport in case of loss.