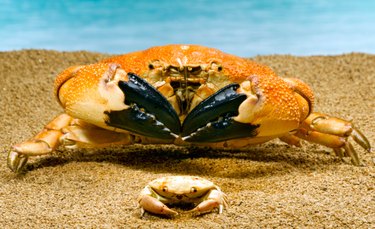 Crab can be enjoyed any time of year, however, spring and summer are the best seasons to find fresh crab at your grocery or seafood store. In fall and winter, dungeness, king and snow crabs are often ice-packed and shipped frozen to seafood and grocery stores. No matter the time of year, take tips and clues for side dish ideas from the coastal regions, where crab is caught and served fresh with a variety of side dishes popular in each region.
New Orleans-Style Side Dishes
Go for a Creole or Cajun theme to select side dishes commonly served from New Orleans to Mississippi, Alabama and Florida. Favorites include red beans and rice, known as Dirty Rice. Dirty Rice is a classic dish made with cooked rice that's pan-fried and sautéed with onions, celery, green peppers and ground beef, and seasoned with fiery spices, such as cayenne pepper. Make red beans and rice and add some New Orleans Boudain sausage to the pot. Substitute smoked pork sausages if you can't find Boudain. Serve hush puppies instead of bread, a corn bread batter fried to form round fritters, and a basic green salad with lettuce and tomatoes. Then, you'll have a variety of side dishes to serve and enjoy steamed crabs just as they do in the French Quarter in New Orleans.
Atlantic Coast Side Dishes
From Maine to Florida, steamed crab is a favorite meal from sunrise to sunset. Corn on the cob and red, new potatoes are classic side dishes. In the northern region, cooks prepare a big pot of boiling water to cook the corn and new potatoes. Travel to the southern Atlantic region and the same technique is used, but they add spices, such as the seafood favorite, Old Bay. Folks down South often refer to the cooking technique as a low country boil. Other options for sides served in the Atlantic tradition include cole slaw or potato salad. Soups, such as clam chowder and cioppino, also make great side dishes for steamed crabs. You can vary the menu by serving a salad or steamed broccoli or asparagus as side dishes.
California-Style Side Dishes
Steamed, dungeness crab is a favorite along the Pacific coast. One of the classic restaurants people go to for steamed crabs is the Cliff House in San Francisco. To serve your steamed crabs "California style" – take a tip from their menu. California-style focuses on fresh vegetables and salads. You can steam and serve green vegetables, such as asparagus, French-cut string beans and broccoli to go along with steamed crabs, or serve a classic Caesar or mixed green salad. Pasta also makes a good side dish to add a hearty touch to a steamed crab meal.
Breads and Desserts
Serve corn bread or hush puppies to create a New Orleans-style steamed crab meal or meals served in a low country, southeast Atlantic-style. For dessert, banana pudding, peach cobbler or red velvet cake are Southern favorites. Baguettes of French or Italian breads go well with steamed crabs served in a northern Atlantic style, along with cheesecake or a baked or fried apple pies for desert. Opt for a sour dour bread to serve your steamed crabs California-style and a light dessert, such as a bowl of sorbet topped with fresh strawberries, blueberries or raspberries.