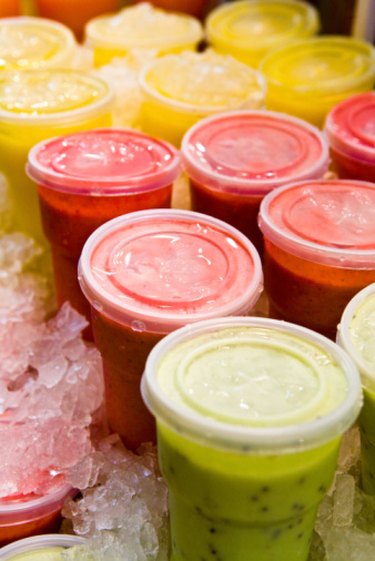 The perfect summertime pick-me-up, smoothies blend fruits and vegetables with juice, yogurt or water for a refreshing, nutrition-packed drink. When designing smoothies, take advantage of the freshness of sweet blueberries, cherries, melons, peaches and pears, and tangy pineaples, mangoes and raspberries. Add some energy-sustaining ingredients so that a smoothie can power you through your day.
Energy-Boosting Smoothies
All smoothies provide some energy, but specific ingredients maximize the effect. A small red berry called goji goes well with kiwi, mango and peaches in any blended drink. Adding oatmeal to a smoothie provides complex carbohydrates that fill drinks with pick-me-up potential. The Kitchn suggests first blending oatmeal into a fine, flour-like substance so that the grain gives drinks texture while keeping them smooth. UWire, a college newspaper, calls oatmeal a "high-octane food" with fiber that keeps energy levels stable.
Vegetable-Based Smoothies
The Harvard School of Public Health recommends copious consumption of fruits and vegetables, about nine servings per day, but says that dark leafy greens are among the best sources of nutrients. Blend some into your smoothie to reap the benefits, adding some natural sweetness when necessary to complement the taste. Mix kale, broccoli greens, cauliflower greens or cabbage greens with any combination of carrots, juices and flaxseed for a cool drink with an impressive nutritional profile.
Tropical Smoothies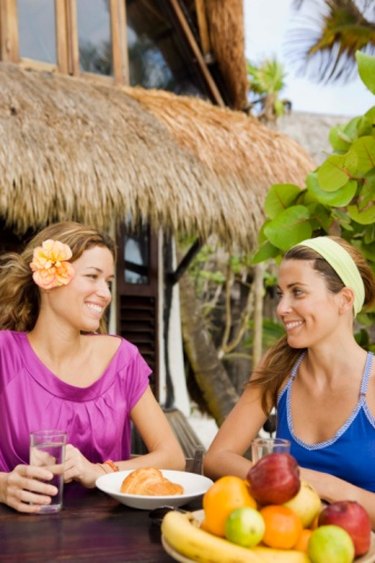 If nothing sounds better than a pina colada, stick close to tropical flavors by taking advantage of mango, banana, guava and pineapple blended with coconut water or the juice of a watermelon. Other tropical fruits include the purple mangosteen, sweet lychee and jujube, which tastes a bit like an apple. Add a dash of milk, yogurt or other dairy product to any smoothie for added creaminess.
Protein-Packed Smoothies
You can use a smoothie to replace a meal if you add some protein to help you reach your recommended daily intake and provide a feeling of sustained energy. WebMD suggests that protein-filled, low-fat drinks can help with weight loss. Keep them low in carbohydrates by using low-sugar fruits and vegetables in place of higher-sugar fruits. The simplest way to add protein is with milk or a dairy alternative like soymilk, but protein powders like whey, casein and soy powder are available in all kinds of flavors.