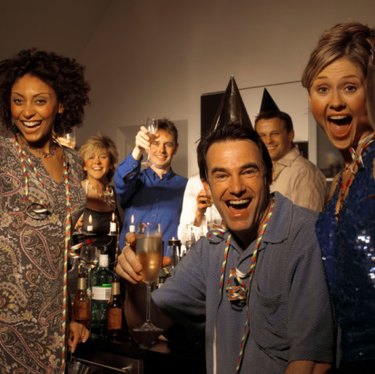 While most people give special attention to decade birthdays such as the big 3-0, a 31st birthday may not seem like a big event. Any birthday, regardless of the number, can be fun if it's done right. If you didn't throw a big bash for your 30th, why not do it for your 31st.
Use the Number 31
Make your age the theme of your party. Invite 31 friends, receive 31 birthday presents, put 31 candles on your birthday cake and decorate the room with 31 of your favorite pictures of yourself over the years. Include your guests in the madness. Invite them to make a top 31 list of the 31 things they like most about you or the 31 best memories they have of you. If you want to include a challenge for your guests, ask them to include the number 31 in their gift. For instance they might bring 31 M&Ms, 31 paperclips, 31 magazines or 31 dollars. Guests will have fun using their creativity.
Host a Retro Party
Celebrate the year you were born with costumes, music and decor from that year. If you were born in the '80s, pack your CD player or iPod with music by Madonna, Tina Turner and Duran Duran. Ask your guests to wear '80s clothes, if they still have them or can find them in a thrift store. Play some '80s movies such as "Back to the Future" and "Dirty Dancing." If you have a Polaroid camera or can purchase one from a thrift store or online, take pictures of you and your party guests just like old times. Find some newspaper clippings from your local library from the year you were born, scan and print them and post them around the room to remember the highlights of that year. Your guests will surely be entertained with this blast from the past party.
A Virtual Party
If you are planning a surprise party for someone turning 31, why not get with the times and make it a virtual surprise. A virtual party can include guests from near and far. This type of party is ideal for someone who has done a lot of traveling over the years and has friends all over the globe. Create a personal website dedicated to celebrating their birthday. Invite all of the guest of honor's friends to send a personal email that will be presented on his birthday. The birthday boy will be completely surprised to receive emails from all over the globe, many from friends he hasn't seen in years. My Virtual Party Space is a website that can help you make this birthday something to remember (see Resources).
The 31 for 31 List
If you aren't in the mood for a party, but are still keen to celebrate this special year, take a page from the movie "The Bucket List" and make a 31 for 31 list – a list of the 31 things you want to accomplish in your 31st year. This could include anything from spending more time with your family, to starting a new hobby, taking a personal interest course, or learning to cook a certain dish you have always wanted to try. Write down your 31 goals for this year and keep it in a place you are sure to see it every day to remind yourself of what you want to accomplish in the next 365 days. Host a get together to show the list to your closest friends so they can encourage you throughout the year to accomplish your goals. Maybe you can encourage them to come up with their own lists too.