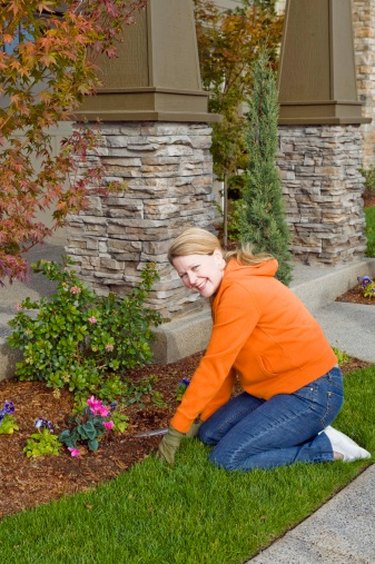 The advantages and disadvantages of landscaping depend very much on the type of landscaping being proposed and for whom. A natural and rustic landscape design basically takes care of itself while a typical, green suburban lawn requires quite a bit of upkeep. Some people look forward to landscaping work while others detest it. These factors and more should be considered as you weigh your options.
Value Advantages
In preparing homes for sale in the staging process, professionals recommend sprucing up the existing landscape conditions with at least minor cosmetic touches. Sloping the grade away from your foundation will help prevent any long-term water damage. Improving your property will help the image of the neighborhood as well as increase your home's assessed value and resale value.
Health Advantages
Studies show that offices retain more employees and people recover more quickly in hospitals when there is quality landscaping. Other advantages to landscaping are more subjective. The psychological benefit of walking through a beautiful, well kept garden is difficult to quantify. Some people enjoy gardening and landscaping as a hobby, for exercise or simply as an excuse for taking in some fresh air.
Time Disadvantages
Putting all the responsibility for landscaping in the hands of a professional landscape designer can save time. But, on the other hand, the professional design and installation process can be a big undertaking and may require a long period of time to complete. An elaborate, classical style of landscape design will ultimately require a lot of maintenance and time. Before committing, ask "Who will do the maintenance and how much time will it take?"
Cost Disadvantages
When a house is built in a wooded area, the least expensive route is to leave the surroundings and yard in a natural condition without a lawn. Opting for a new lawn can be seen as a plus for some. But for the next people who come to live in a house, it may be considered an unnecessary cost and maintenance headache.
Environmental Considerations
Planting trees, shrubs and wild grasses are generally advantageous for the environment. Some landscaping, however, can be detrimental to the environment. Excess water runoff and the use of strong chemicals are avoided by designers of green landscaping, also known as sustainable landscaping. Roof gardens, underground houses and deciduous trees for strategic summer shade are all considered environmentally helpful practices.