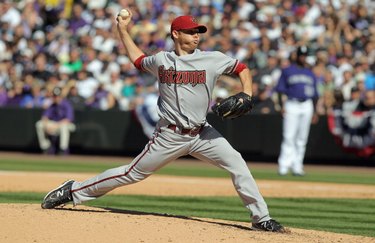 Chase Field is in the heart of downtown Phoenix, Arizona, and hosts games for the Arizona Diamondbacks, a Major League baseball franchise. Before or after a Diamondbacks game, fans have access to a variety of restaurants within 10 minutes of Chase Field. The baseball season for the Diamondbacks typically runs from April through October, depending on if they play in the postseason.
Arizona Baseball Club
Located on Chase Field's Suite Level, the Arizona Baseball Club (no website; 401 East Jefferson St.; Phoenix, AZ 85004; 602-462-3430), or ABC, provides an elegant, restaurant-style atmosphere, says the Maricopa County website. This restaurant provides views of the baseball field from its right outfield position. Open-air patio seating is available. This restaurant provides sit-down style service and a buffet station. Some of the menu items include seasoned beef tenderloin, quesadillas, barbecue ribs, swordfish and prime rib slider burgers. ABC's full-service bar serves beers and cocktail drinks. The restaurant hosts receptions and dance parties.
Sedona Club
The Sedona Club (no website; 401 East Jefferson St.; Phoenix, AZ 85004; 602-462-6605) is a Lower Level lounge area located on the third base line section of the stadium. This restaurant has a small dining room with stone pillars and leather seats. Sedona Club is exclusive to Legacy Club members and fans sitting in the Clubhouse, First/Third and Dugout Boxes; however, box ticket holders and members of the Legacy Club may bring non-members as guests. Sedona Club features a Build-A-Burger option, which allows patrons to create their own hamburger. Types of meat include beef, chicken, veggie burger and turkey. The menu also features desserts, including seven-layer carrot cake and cheesecake.
T.G.I. Friday's Front Row
T.G.I. Friday's Front Row (frontrowphoenix.com) is a casual restaurant behind the left outfield of Chase Field. This restaurant is open even during the Diamondbacks' off-season. On non-baseball gamedays, Friday's Front Row provides Happy Hour specials in the late afternoon. Patrons are able to watch baseball games from the restaurant's outdoor dining areas, which include Home Run Porch and Greenhouse sections. Menu items include dragonfire salmon, Captain Morgan Caribbean Rockin' Reggae ribs, Parmesan-crusted chicken and Cajun shrimp. Front Row also offers a three-course meal special. During non-baseball days, the restaurant validates parking for patrons in the Chase Field parking structure.
Audi Quattro Lounge
Fans in the Audi Quattro Lounge (no website; 401 E. Jefferson St.; Phoenix, AZ 85004; 602-462-6500) watch baseball games from behind the home plate. Only Clubhouse Box and First/Third Box ticketholders have access to this lounge. The dinner menu features antipasta, spicy scallop and sesame-crusted salmon, while carved sandwiches include barbecue pulled pork and a Oaxacan turkey wrap. The dining room features a salad buffet station and flat-screen televisions for viewing the game. For dessert, the Audi Quattro Lounge provides the "Build Your Own Sundae" bar, which allows guests to create their own ice cream sundae. Audi Quattro Lounge remains open for 30 minutes after games.