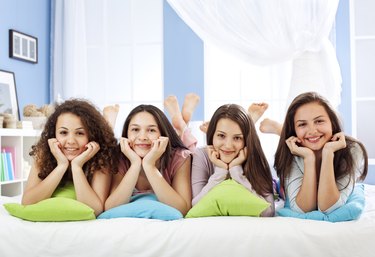 Nine-year-old girls can enjoy a night of facials and makeovers at a spa sleepover party. Pampering, giggles and games should be on the agenda for fun. With a few supplies and some planned activities, you can create a memorable spa sleepover for your daughter and her friends. Give party favors and prizes, such as face masks, lotion sets and body wash, to the girls to take home as mementos of the party.
Arrival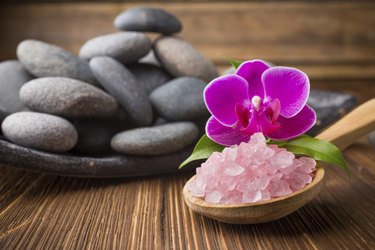 As the girls arrive at the party, give each one a hair tie and a robe or smock. Help them put their hair up so it stays out of their faces until it's time for hair. Spread blankets, pillows, mirrors and bottled water around the party area for the girls to relax. Have the spa stations ready to go when they girls arrive. Spa stations examples include facials, feet, nails, massage, toes, makeup and hair.
Beauty Supply Hunt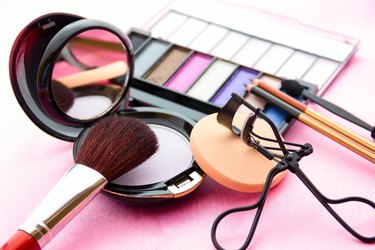 Hide several beauty supplies all over the party area. For example, you can hide makeup, body wash, travel-size products, sleep masks, hairbrushes, lotion and face masks. Give each girl a small basket to hunt the items. The girl who finds the most beauty items wins the game and a prize. Each girl can keep her basket of goodies to take home as party favors.
Bath Salts and Body Glitter Activities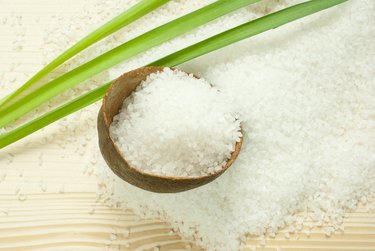 Give each girl a plastic zipper bag with one cup of Epsom salts in it. Help the girls add drops of soap fragrance oil and soap dye to their bag. Soap fragrance and dye are available at most craft supply stores. Give the girls a small plastic container with clear aloe vera gel (3/4 full). The girls can add fine polyester glitter to the aloe vera gel to make their own body glitter. They can take these items home as mementos of the spa sleepover party.
Mud Mask Contest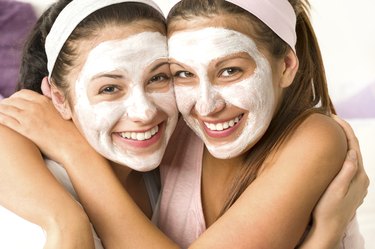 Mix several mud masks in bowls and place them on the table. You can buy masks or make homemade ones (see Resources). Make sure you have plenty of different colors. Divide the girls into pairs and have them paint a mud mask on their partner's face. The objective is for the girls to create a painting or picture on her partner's face using the mud masks. Tell them to be as creative as possible. Award prizes to the funniest, silliest, scariest and best mud mask creation.