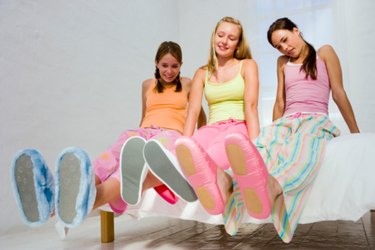 Staying up late in pajamas, gossiping and late night snacks are all things that come to mind when you think of slumber parties. Plan a slumber party for your 10-year-old daughter and her friends by creating decorations, games and activities that are not too childish; however, not too "grown up" either. Award the party guests with prizes and favors, such as fuzzy slippers and pillowcases, to take home as a memento of the party.
Invitations
Use construction paper, markers and tape to make a sleeping bag for each party invitation. Print a picture of the birthday guest of honor's face for each one of the invitations. Make a small pillow using construction paper to glue to the top of the sleeping bag and glue the pictures of the birthday girl's face to the pillow. This should make it look like she is in the sleeping bag. Write the party details on the front of the sleeping bag and mail or hand-deliver the invitations to the guests. Be sure to tell the guests to bring their own blanket, pillow and sleeping bag.
Movie Room
Create a "movie room" for the 10-year-old girls to enjoy at the party. Clear out the room and place blankets, pillows, sheets and sleeping bags all over the floor. Place two tables in the room to serve as "concession stands." On one table, place several bowls of popcorn in different flavors. Put small brown sacks on the table and the guests can fill up a bag of popcorn for the movies. On the other table, place several "concession stand" snacks like small boxes of candy, nacho cheese and chips, hot dogs wrapped in aluminum foil and large pickles. Play movies throughout the night and let the guests enjoy the movie room. This room also makes the perfect place to sleep.
Flashlight Decorating
Create a flashlight decorating activity for the girls by giving each guest a plain flashlight to decorate. Plain, inexpensive flashlights are available online and in hardware stores. Have the girls sit at a table and decorate the flashlights using beads, glitter pens, markers, rhinestones, stickers and glitter. They can use the flashlights that night while telling stories and take them home as party favors the next day.
Pajama Contest
When writing the invitations, tell your guests to bring their best pajamas to the party. Later in the party when the guests put on their pajamas, have them come out and model them. Award prizes to the guests with the funniest, cutest, silliest and plainest pajamas. Another variation to this game is a slippers contest. Tell the guests to wear their favorite pair of slippers and award prizes to the guests with the cutest, funniest, silliest and scariest pair of slippers.