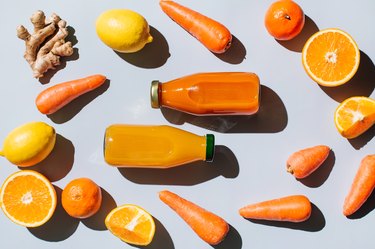 A juice bar is all about providing customers with fresh juices that are filled with vitamins and superfoods, and free of additives. Think: Cold-pressed juices, green juices, fruit-and-veggie smoothies, ginger shots, protein shakes and even acai bowls or smoothie bowls. Because juice bars are usually so health food focused, you're not as likely to find alcoholic beverages or popular fast food fare, such as ice cream or milkshakes. But you may find vegan sweets, plus foods and drinks with anti-inflammatory or cleansing properties. After all, the goal is to step out of a juice bar feeling healthier and more rejuvenated than when you stepped in!
Juice Bar Lingo 101
We get it: Visiting a juice bar can be overwhelming, especially if you're feeling overloaded by unfamiliar terms. Here's a short glossary of juice bar lingo to help you order a drink with confidence and ease.
‌Cleanse: ‌While many of the purported health benefits of juice cleanses are not supported by scientific evidence, they're still a popular option on some menus. When you opt for a "cleansing" beverage at the juice bar, you're sipping a mixture that provides minerals and nutrients ("cleanse" drinks are typically loaded with juice shots listed below) while supporting the apparent flushing of toxins.
‌Cold-pressed: ‌Simply put, cold-pressed juice refers to juice made in a heavy-duty hydraulic press. This means fruits and vegetables are placed under large amounts of pressure to extract every last drop and nutrient, so you're not missing out on any of that deliciousness!
‌Elixir: ‌If you see "elixir" on a juice bar menu, there's no magic potion involved—elixir is simply a fancy way to describe juice that tastes great and expertly combines various fruits, flavors and mix-ins.
‌Immunity:‌ Menu items with the word "immunity" are common at juice bars and in specific juice shots. In a nutshell, "immunity" simply means "immune system boosting." Think: Add-ins like Vitamin C or turmeric, which are said to have anti-inflammatory properties.
‌Hemp seed: ‌Ever seen hemp seed listed as an ingredient in your smoothie bowl, acai bowl or juice blend? Hemp seeds are, well, tiny seeds derived from the hemp plant! They add healthy omega fatty acids that are said to regulate blood pressure and general heart health.
‌Green juice: ‌While there are many combinations that make up so-called green juice, the most common ingredients when ordering this from a juice bar are leafy green veggies (like spinach and kale) along with celery, cucumbers and even green apple. Again, there's no evidence to support the idea that green juices are inherently healthier, but they're a common pick for the health-conscious juice bar patron.
Juice bars are frequently attached to restaurants and fitness centers or freestanding, but you can also make your own juice bar at home or for a party. If you are looking to make a DIY juice bar, or simply want to know what you're most likely to find at a juice bar, consider this guide to all the juice bar classics.
1. Fruit & Vegetable Juices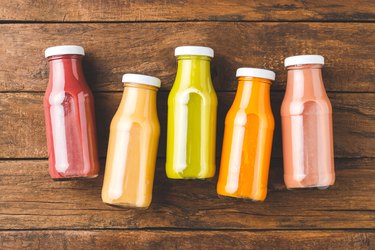 The number one item at a juice bar? Why, juice, of course! Juice bar drinks typically start with a common base, such as apple, orange or pineapple juice. Then the juice bar baristas mix the base ingredients with different combinations of fruits and vegetables, including strawberries, blueberries and bananas; tropical fruits such as mango and papaya; and vegetables such as beets, celery, carrots, spinach and kale. Often juice bars offer ingredient add-ons, like spirulina and wheatgrass juice.
Tip
The secret to getting the perfectly blended smoothie or juice every time? A great blender or juicer! That's why we put together these lists of best blenders and best juicers.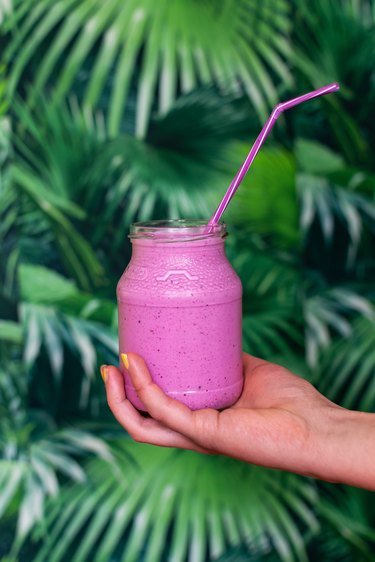 Juice bars also typically offer smoothies. Smoothies are made by blending a juice drink with a thicker dairy product or dairy substitute, such as yogurt or almond milk. Frozen fruit (bananas and strawberries are particularly popular) are also commonly added to increase flavor and thicken texture. Smoothies are popular at juice bars because they tend to be more substantial and filling compared to juice.
You might also have the opportunity to add juice shots to your smoothie for added nutritional value. Take a look at our juice shot overview below for a breakdown of purported benefits and common uses.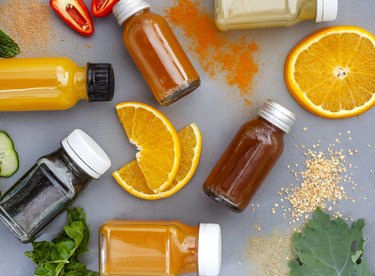 A juice shot is typically a 2 oz. to 4 oz. drink filled with ingredients that have tons of vitamins and minerals. But what exactly do these "shots" do (or, at least, claim to do) health-wise? Here's a quick breakdown of what's being added to your juice when you opt for some of juice bars' most popular add-ins and shots:
‌Ginger shots:‌ It's no secret that ginger is a common at-home remedy for nausea or general upset stomachs—in fact, many of us remember sipping ginger ale to sooth stomachaches growing up. Think of a ginger shot in your juice as a grown-up version of that ginger ale: You'll soothe any digestive issues while adding a pop of flavor to the mix.
‌Wheatgrass shots:‌ First and foremost, what ‌is‌ wheatgrass? It might sound like something you'd find a farm animal chomping on, but the reality is much more appetizing. Wheatgrass is made from the earliest leaves of standard wheat plants and contains chlorophyll, amino acids, iron, calcium, vitamins C and B, magnesium and more. In short, it will boost your daily nutrient intake and even help the digestive process.
‌Barley grass shots:‌ Like wheatgrass, barley grass comes from young barley plants and offers a variety of nutrient and vitamins, especially amino acids, calcium and magnesium. Opt for barley grass shots if you're looking to improve digestion, support bone health and keep your cholesterol under control.
‌Apple cider vinegar shots:‌ You might have apple cider vinegar in your pantry, but did you know it's a great addition to juice, including juice you pick up at a juice bar? Apple cider vinegar is generally safe to consume in quantities of one to two tablespoons per day, so don't over-do it—but an appropriate amount each day (say, for instance, in the form of a juice shot!) may help regulate glucose levels and lower cholesterol.
4. Acai Bowls & Smoothie Bowls
Acai bowls and other "smoothie bowls" have gained popularity in recent years, quickly becoming regular menu items at juice bars and cafés across the country. It's easy to see why: Smoothie bowls are packed with nutrients (acai berries are full of antioxidants, omega fatty acids, B vitamins, vitamin K and fiber) and are super tasty, plus they're filling enough for breakfast—or any meal, for that matter.
If you're more of a "sit down and dine with utensils" sort of person instead of a "sip my breakfast as I rush to another meeting" sort of person (or you just adore the colorful aesthetic of a vibrant dish), acai and smoothie bowls are the way to go.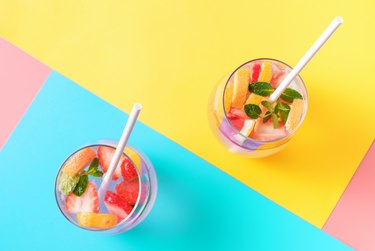 Tea and coffee have health benefits too, so you can often find both at juice bars. Coffee may be available in a wide variety of bean types and flavors, while the tea selection typically includes iced teas, decaffeinated herbal teas (such as chamomile) and caffeinated tea varieties (such as green tea, black tea, white tea and red tea).
Matcha (including the much-loved matcha latte) has also grown in popularity during recent years, so you might find matcha-based drinks or matcha powder add-ins when you visit the juice bar. Matcha is actually composed of finely ground tea leaves (some call it the "ultimate" version of green tea) and can be used as a hot or cold drink base and even a culinary ingredient. If you're not a fan of its strong taste, the bitter flavor can be tempered by milk or other liquids—plus, it's loaded with antioxidants. What's not to love?
Popular Juice Bars
Ready to sip some delicious juice, but not sure where to find a juice bar to satisfy those cravings? Here are three must-visit juice bars in the United States that deserve a spot on your beverage bucket list.
‌Nékter:‌ With locations in more than 22 states, Nékter is a fantastic mix of traditional juice, handcrafted smoothies and acai bowls—there's really something for everyone. Design your own juice, bowl or smoothie, or select from premade menu items with nutritionally dense add-ins galore. You can even snag bottled juice for the road.
‌Tropical Smoothie:‌ If you're looking specifically for smoothies, Tropical Smoothie is a solid pick. The chain operates locations in more than 40 states and offers all sorts of fruit bases, along with mix-ins like avocado, greens, chia, protein powder, vitamin B12, whey protein and even probiotics.
‌Jamba: ‌You might be familiar with Jamba Juice, but did you know that the company now simply operates under the name Jamba? Their menu includes everything from smoothie bowls to iced beverages to baked goods and sandwiches to—of course—traditional juice and smoothies. With 770 locations across the United States, there's probably a Jamba in your neck of the woods.
Whether you're a total juice bar newbie or a daily visitor, it's important to know what you're selecting and consuming. Now that you're armed with everything you need to know about common juice bar products and add-ins, start crafting your perfect order. It's time to sip with confidence!