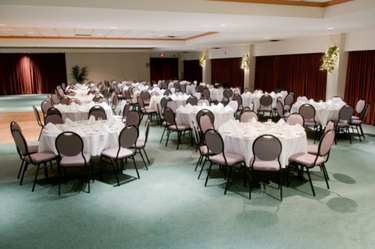 When you choose what foods to serve at a banquet, you must consider the wide range of tastes of the guests, along with medical or self-imposed dietary restrictions. The menu should be reasonably nutritious, have variety and balance, and include ample selections of starters, entrees, side dishes, desserts and beverages.
Food Choice Guidelines
Banquet foods should be simple enough to cook in large quantities, and should have good holding power so they can be made ahead of time and kept warm without deterioration in taste, texture or appearance. The portions should be uniform for cost control, consistent presentation and guest satisfaction. Avoid heavily spiced foods or unconventional choices that may not be familiar to the majority of banquet attendees.
Starters
A selection of raw vegetables, salads and soups is a good way to begin the meal and will likely satisfy most guests. Include a crudites selection with one or two dipping sauces, a basic tossed green salad, a simple spinach salad, a light soup such as vegetables in chicken broth and a hardier, creamy soup such as cream of mushroom or of broccoli. Offer a selection of salad dressings and rolls to accompany the first course.
Entrees
This course is more challenging and typically includes a choice of meat, poultry, fish or seafood and a meatless dish. Roast beef or pork, boneless stuffed chicken breasts, grilled fish or shellfish, and vegetarian stir-fry or meatless casseroles offer a range of entrees that fit the needs of most diners. Sauces or gravies are often presented as optional accompaniments for meat and poultry entrees, served either with the dishes or on the side.
Side Dishes
Side dishes conventionally include a selection of vegetables and starches. For the vegetables, it is best to stick to standard favorites like green beans, peas, broccoli and corn. Starches can be more creative, but should include rice pilaf, pasta dressed in light sauces, and mashed or baked potatoes.
Desserts
Dessert options at banquets usually include fruit-based, cream-based and chocolate selections. Fruit pies or cobblers, cheesecake, and chocolate cake or brownies are preferred banquet desserts. Avoid ice cream desserts or other frozen concoctions that require special storage and handling and prompt consumption.
Beverages
Each guest should have a water glass that is frequently refilled. Offer hot or iced tea, freshly brewed coffee and soft drinks as beverage options during and after the meal. Some banquets include wine, beer and mixed drinks.