Planning a pirate party? Food is a big part of the fun! We've got you covered with simple ideas that make a big impact without adding stress to the ship's cook. In fact, mini-pirates can put most of these together themselves. (Or maybe they're too busy swabbing the deck?!)
Hot Dog Ships
For the world's easiest transformation of turning hotdogs into a fleet of pirate ships, simply cut out squares of paper for the sails and poke them through an extra-long toothpick. Make flags (or find printables online), glue to the top of the toothpick and affix the sails.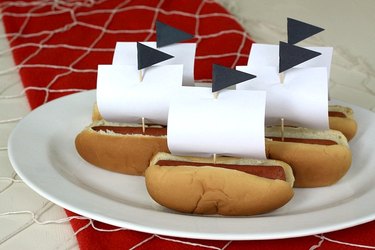 Treasure Map Pizza
Use your favorite pizza recipe for this one, gently shaping the dough into a rectangle. Add sauce and cheese and bake before adding a sliced olive trail, pretzel-broccoli trees, a bell pepper boat and of course an "X" to mark the spot.
Man-Eating Octopus Veggie Tray
All you need to make this deceptively simple veggie tray is two bell peppers, two googly eye stickers and a plate of raw vegetables. The "head" is one whole bell pepper with the stem trimmed off. Cut the second pepper into eight strips and stick on your googly eyes for a dramatic effect in minutes.
Crocodile Blood
Pour Yer Poison. Pirates' Bloody Brew. Yo, Ho, Ho & This Bottle of Rum. Any red punch will do for this toe-curling drink — the effect is all about placing a sign next to your jug once you decide on a name.
Shark Bait
Doing double duty for adding to the maritime theme and offering a familiar food to any less-than-adventurous eaters, you can never go wrong with these famously shaped crackers.
Tip
Paper cupcake liners make easy (and inexpensive) serving cups.
Dead Men's Fingers
Mini sausages make a perfectly creepy pop of protein for party tables that are usually loaded with sweets.
Shark Teeth Cheese
With one carefully placed sign, white cheddar cheese wedges instantly become a spooky snack.
Tip
To make flags, fold a piece of paper in half then cut twice to make a triangle. Use glue to fasten onto an extra-long toothpick.
Sweet Sea Creatures
Nothing rounds out a swashbuckling buffet like fish-shaped candies or chocolates with golden wrappers. Arrange on a platter or scatter throughout the serving area.
Pirate Booty Favors
Bundle gold-wrapped candies in treat bags with a ribbon to send every pirate home with a smile.