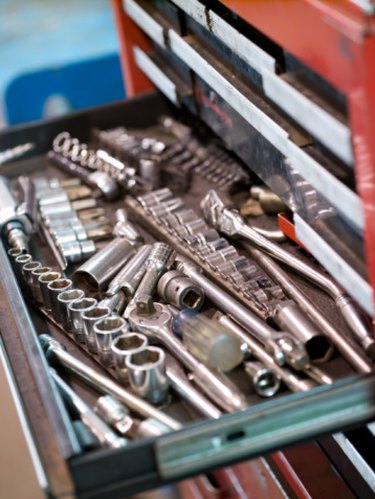 Impact sockets differ in a number of ways from standard sockets. They look different, but they are much stronger and you can be use them for a wider range of tasks than can standard sockets. While professionals are the primary users of impact sockets in the auto repair field, the sockets also make a good addition to your own home garage for typical automotive repairs such as tire rotation and even larger projects such as vehicle restoration.
Metals
Standard sockets are typically constructed of polished Chrome Vanadium steel. This type of tool provides qualities such as resistance to flexing and a lack of porosity, which allows you to easily clean the sockets and naturally resist rust.Manufacturers construct impact sockets of hot forged Chrome Vanadium steel with a significantly thicker socket wall. Not only does this heat treatment produce a harder surface, it also imparts a darker coloration to the metal, which helps you distinguish impact sockets from standard sockets in the tool box. The thicker socket wall provides additional socket strength to the tool, helping to prevent cracks from forming in the thinnest areas of the socket wall.
Uses
Standard sockets are typically used with a standard 1/4 inch, 3/8 inch, 1/2 inch or 1 inch ratchet to remove bolts and hardware which is neither rusty nor tightly fastened in place. These uses may range from standard household door hinges or appliances, to automotive tasks such as engine and interior work. Impact sockets on the other hand, are used almost exclusively used in the automotive field. They are particularly useful in removing and replacing wheel lug nuts, suspension components and chassis bolts. Impact sockets are also widely utilized in heavy equipment repair and in aircraft repair. Different from standard sockets, impact sockets are typically used with an impact wrench or impact driver. These tools are available in sizes ranging from 3/8 inch to 1 inch.
Availability
You can find impact sockets, like standard sockets, widely available from automotive repair stores as well as specialty tool retailers. Of particularly high quality are tools available from dedicated automotive repair tool retailers such as Matco, Snap-On and Mac tools. Standard sockets come in standard and metric sizes, and can be had as deep well sockets, shallow sockets or standard well sockets. This indicates the overall length of the socket, ranging from 1 inch to as much as 4 inches. Impact sockets come in all configurations as standard sockets.
Sales prices
Impact sockets are typically priced higher than standard sockets due to the additional heat treating of the socket material as well as the additional material used in constructing the socket. You often would do well to purchase impact sockets as a kit in which includes a range of sizes, in either deep well or standard well sizes. Standard and impact sockets are widely available at home stores, specialty retailers, and you even can find them in secondhand stores for good prices below retail.