There is no single best type of in-ground pool that suits everyone's needs. Each type of in-ground pool has its own costs, installation times, advantages, disadvantages and upkeep costs. Evaluate your needs and wants before deciding on what type of in-ground pool to purchase.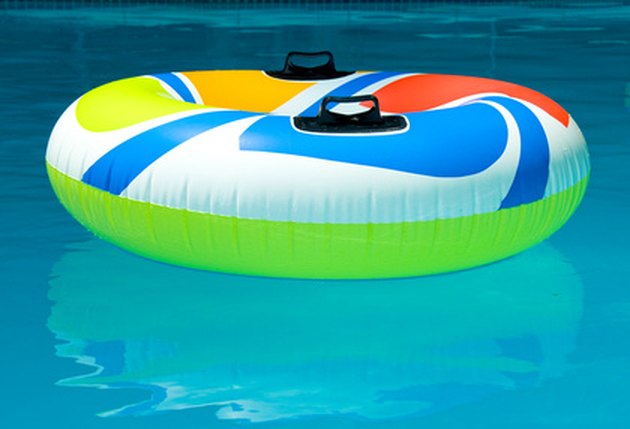 In-Ground Vinyl Liner Swimming Pool
An in-ground, vinyl-liner swimming pool is a permanent addition to a property, best suited to those who want to remain on the lower end of the price spectrum when it comes to in-ground pools. The vinyl liner is similar that of to above-ground pools, but it gets buried under the ground. The costs of a vinyl-liner pool average from $30,000 to $60,000 with installation, depending on the size and options you select. The average installation time is three weeks long, so it is best to start the installation before summer approaches if you want it available for the season. The most common problem with vinyl-layer pools is leaking return lines or a rip in the liner. They are available in many sizes and shapes for maximum versatility and desirable in cold climates, due to their resistance.
In-Ground Concrete Swimming Pool
An in-ground concrete swimming pool is best for individuals who want to have the highest quality pool. They offer maximum versatility, with the ability to design and shape the pool any way you want. Concrete pools are the most expensive to purchase, ranging from $50,000 to $150,000 on the higher end of the spectrum. Installing a concrete pool takes a minimum of two months and is very noisy, with construction equipment on site. Concrete pools are the most durable and can last up to 50 years. The primary disadvantage to concrete in-ground pools is the chance of developing a leaking plumbing system, which can cost thousands to repair.
Fiberglass and Resin Shell Swimming Pool
Fiberglass and resin based swimming pools are relatively new to the pool market. A fiberglass pool is a shell of a plastic mold. The cost ranges from $40,000 to $90,000 after purchasing the materials and paying for installation. It can take from four days to two weeks to install. The average lifespan of a fiberglass pool is estimated at 30 years. The most common problems with fiberglass pools are twisting, cracking or sinking of the shell. Their primary benefit is their easy installation and smooth surface. Fiberglass pools are shallower than other types of in-ground pools and have limited options for repair.
Other Factors
Other factors to consider, regardless of what type of pool you purchase, are the ease of installation and access to the digging site. Get a thick liner if you choose to opt for a vinyl in-ground pool. If concrete is your best option, choose shotcrete instead of gunite for lower costs. Also consider the value of your home and how building an in-ground pool will increase it.