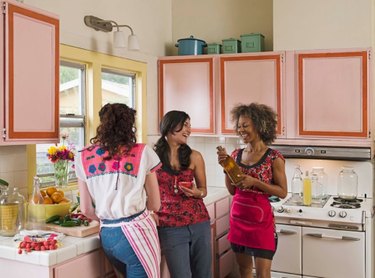 The ranch-style homes became popular in the United States in the 1930s. The floor plan is usually confined to one story with the bedrooms clustered together at one end of the house and a garage at the opposite end. Unlike Victorian or Tudor homes, the exterior of a ranch house has little, if any, detailing. Common, natural materials are used to build most ranch-style homes.
Wood
Wood is one of the most common materials used in the construction of ranch-style houses. Wood makes up both the siding of many ranch homes, but also the frame work, floors, cabinets, window frames, doors and molding. Both hardwoods and softwoods are used in a ranch-style house.
Brick
Few ranch homes use brick for the entire exterior, but brick is used as one of the few decorative elements on the outside of a ranch-style house. Partial walls, planters and trim are a few uses for decorative brick work. If the house has a fireplace, the chimney and fireplace are constructed from brick.
Concrete
If the ranch house has a basement, the floor and walls are poured concrete. Concrete is also used for the flooring in the garage and the house's foundation. Metal rebar provides a frame work and reinforcement for the concrete.
Glass, Metal and Other Materials
Windows in older ranch-style homes are made of glass. Duct work, plumbing, electrical wiring and gutters require metal. Some ranch-style homes use stucco or vinyl siding on exterior walls. Most ranch-style homes are insulated with fiberglass or foam.