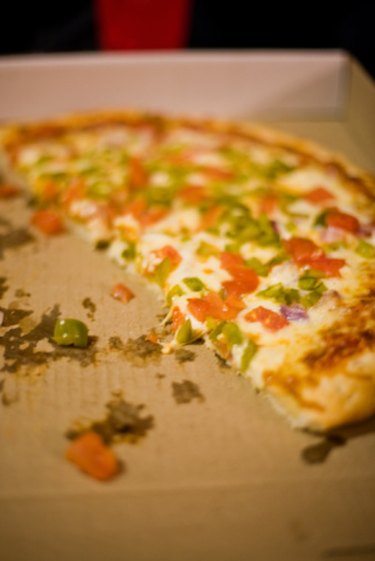 Whether you are celebrating a holiday, birthday or just having fun with your friends, a party of 25 guests requires lots of food. While 25 people may not seem that many, you will still want to have large portions and a variety of food available for everyone. Make sure the food is easy to prepare and serve and appealing to all different tastes.
Pizza
Pizza may sound like an obvious food choice for a party, but almost everyone seems to enjoy it and it is easy to prepare or buy. Choose special types of pizza that will excite your guests. Some options include Hawaiian pizza that features pineapple and ham or Mexican pizza that features tomatoes, onions, jalapenos, bell peppers, pepper jack cheese and ground meat. Other unusual pizza choices include buffalo chicken, barbecue chicken, veggie and seafood. You can create these different types of pizzas yourself or order them from specialty pizza places. Consider having a plain or pepperoni pizza available for picky eaters.
Dips
Dips are surprisingly easy to make and so many different kinds are available. Having a variety of dips available at a party is an appealing treat. Put out baskets of chips alongside the different dips. Some fun-flavored dips can include buffalo chicken dip, taco dip, pizza dip and spinach artichoke dip. Hundreds of different dip recipes are available that are easy to prepare. Besides just chips, consider using bread or vegetables for dips.
Burgers
Burgers are perfect for a summer party. You can grill them on a hot summer night for a delicious meal. Consider having a burger buffet or bar where you put out different types of toppings, including tomatoes, lettuce, pickles and onions along with ketchup, mustard and mayonnaise as condiments. You can even have more adventurous toppings available like pineapple slices, jalapenos and bacon. Each guest can build his ideal burger.
Foods from Around the World
If you are truly adventurous in the kitchen and have lots of time to plan and cook, you can have food from around the world. Choose different dishes from different countries or cultures for the meal. Have stir fry for China. Cook lasagna for Italy. Prepare tacos for Mexico. Grill hot dogs for the United States. Choose foods that are appealing to all guests and relate to a specific country.