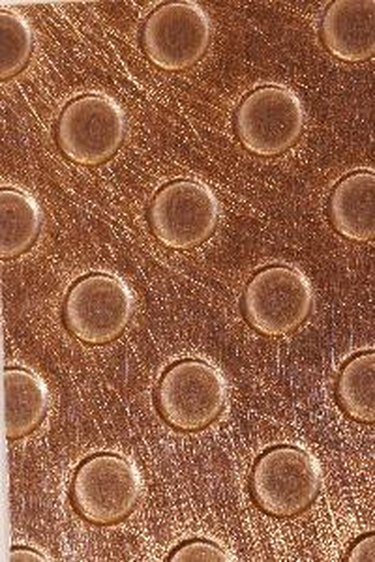 Attractive and durable, a copper backsplash gives your kitchen a warm appearance as well as protects the wallboard under your kitchen's cabinets. The backsplash can even make a small kitchen appear larger. But like other backsplashes, copper attracts dust, grease and grime. It is important to clean the copper on a regular basis to keep it from darkening and changing colors.
Cleaning
Use a mild soap solution, 1/2 cup of liquid dishwashing detergent and 2 cups of warm water, and a soft cloth or rag to clean your copper backsplash. When cleaning the backsplash, wipe it gently then rinse the cloth or rag out with warm water from a sink. Wring out excess and wipe the backsplash to remove any soap solution residue. Dry the copper backsplash thoroughly with a clean, dry cloth or rag.
Cleaners to Avoid
Do not use an abrasive sponge or pad to clean your copper backsplash—these items will scratch the copper. Also, do not use an abrasive cleaner, cleaning solution or acetone to remove any debris from the backsplash. These chemicals will strip off the copper's finish.
Oxidation
When copper comes in contact with acid or outdoor elements, a green substance, known as a patina, appears on the copper's surface. This oxidation process occurs over time especially if you splash an acid or substance containing acid onto the backsplash. To remove the patina, if desired, rub it with salt then with lemon wedges. The salt and lemon will counteract the patina and break it up. Then complete the steps in the "Cleaning" section.
You can also apply ketchup to the copper, scrub it gently into the patina then rinse it off thoroughly. Perform these steps monthly to remove the patina.
Sealing the Copper
To protect your copper backsplash and keep its finish looking like new, apply two to three coats of lacquer, found at hardware and home improvement stores. The lacquer will dry clear and help keep any moisture from affecting the copper.